One of the oldest cities in São Paulo is the city of exaggerations, where everything is big, except the city, which is small It's mainly a half-day trip, perfect to go with family and children. And after this half day, you can go to Salto, and enjoy the rest of the day or go to one of the farms and spend the day there. What your heart tells you, my little friend.
SQUARE OF EXAGGERATIONS
It's a small square where everything else is big, the bank, the bench, a player, the ants and so on. The coolest one is the interactive chess game.
Location: R. José Maria dos Passos, 200 – Vila Padre Bento
SQUARE FATHER MIGUEL or MATRIZ SQUARE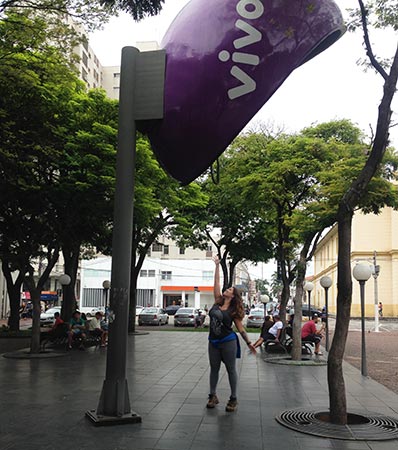 This one is very famous, it is where one of the famous items of the city is, the giant phone and traffic light.
In general, Itu has several squares frequented by tourists and locals, if you want to check them are: Dom Pedro I Square, Independence Square in front of the Carmo Church, the small Padre Anchieta Square near the Church of Senhor Bom Jesus and Praça do Quarter.
Location: Centro – Itu.
CHURCH OUR LADY OF THE CANDELARIA or MATRIZ CHURCH
The city has several churches considered historical and architectural patrimony, the most famous of it is the Nossa Senhora da Candelári Church, the first building to be protected in the city in 1938.
Location: Plaza Matriz, Centro – Itu.
FARM: FAZENDA DA SERRA or FARM OF CHOCOLATES
Recommended to people with all ages, the tour is for a history farm, with a chapel from 1925, a small chocolate factory and plenty of nature. The place has a structure for rest, for food, and horse riding.
Location: Romeiros Road, s / n – Boulder
Website: Chocolate Farm
LAKE: PESQUEIRO MAEDA
Here is a good way to close the day as there are several activities, a complete structure including inn and restaurant. Activities: fishing, tree climbing, train trip, water toys, horseback riding, swimming pool, pedal boat and more.
Location: Rodovia SP 75 (Archimedes Lammoglia) – Km 18 in front of the balance
Website: Maeda Park
VARVITO SPARK
It's a historical park, inaugurated on July 23, 1995, is the best exposure of the rock called varvito in the Paraná Basin. Varvito is a rock formed in bodies of water, like lakes of a glacial environment. A part of the quarry area has been demolished but today it is environmental patrimony.
Location: Rua Parque do Varvito, 4210
Website: Varvit Park
Value: free <3
MAIN DESTINATIONS OF THE CITY:
Maeda, Historic Center, Farms, Museums, Churches, Barracks, Campsites, and Parque do Varvito
---

Contribute to the environment
Take your trash
Collect rubbish if possible
ALWAYS PRESERVE THE NATURE