Located at the Tiete riverside, the city is a great choice to do a day trip, there are waterfalls, light treks, and historical sites. The city, in general, has great natural beauty. And if you finish in half day, you can go to the neighbor city Itu and enjoy the rest of the day there.
WATERFALL: TOURISTIC COMPLEX
A complex with several waterfalls, bridge, nature, and flowers. It's really a beautiful place to visit.
Location: Praça Dr. Archimedes Lammoglia – Centro
SQUARE: COUPLES BRIDGE (Ponte dos Enamorados)
Open area, access every day 24 hours.
Location: Waterfall Resort
WATERFALL: SALTOS WATERFALLS (Cachoeira dos Saltos)
The largest fall of the River Tiete throughout its course by the state of SP.
Open area, access every day 24 hours.
Location: Waterfall Resort
HISTORICAL SITE: PÊSIL BRIDGE and MEMORIAL OF TIETE RIVER
Built in 1913, the bridge was made to allow the fishermen to access the old port, the "Porto das Canoas". Today is more a place for nature walks.
Location: Waterfall Resort
Open from Tuesday to Sunday from 8:30 am to 4:30 pm
MONUMENT TO THE PATRONESS (Monumento a padroeira)
With 30 meters of height in reinforced concrete, the Monument is only smaller than the Cristo Redentor, in Rio de Janeiro. It was built in honor of Nossa Senhora of Monte Serrat, from the top you can see the whole city.
Location: Praça João Paulo II, s / nº – Jd. Itaguaçu – 2 km from the city center
HANDICRAFTS MARKET
Location: Praça Dr. Archimedes Lammoglia – Centro
Open: every weekend
CHURCH: NOSSA SENHORA DE MONTE SERRAT CHURCH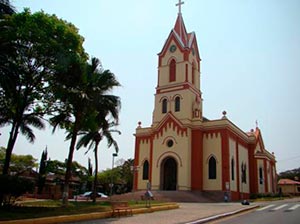 Built in 1936 the church occupies the place where it was once the chapel of 1698, which was built by Captain Antonio Vieira Tavares, giving rise to the city of Salto
Location: Praça da Bandeira, s / nº – Centro
LAKE PARK
At 6 km from the Tourist Complex of Cachoeira, the park is a great way to end the day, it is open to the public the place, has lots of green and is very well cared. There are a parking structure, snack bar, courts, aeromodelling track, children's playground, exercise equipment for adults, a 1.6 km walking trail and dozens of bird species.
Location: Padre Bento Street, 995
Free entrance. Open from 8:30 a.m. to 4:30 p.m. from Tuesday to Sunday.
PARK: ROCHA MOUTONNÉ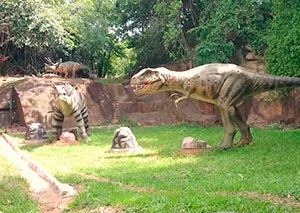 A very exotic park with several dinosaur statues. This was the first ecological and geo-historical park of South America, it has rock formations with glacial marks of the Paleozoic era.
Location: Rod. Rocha Moutonée, s / n – Lot. Lands of São Pedro and São Paulo
PARK: LAVRAS
With a hydroelectric plant of 1906 deactivated for over 40 years, the Park was made with pink granite and has beautiful gardens of bromeliads.
Location: R. Tamoios, 427 – Jardim Itaguaçu
PARK: GRANITE PARK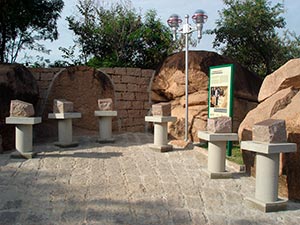 Inaugurated on April 21, 2007, the square is the link between the monument to the Patron and the Park of Lavras.
Location: Jardim Itaguaçu – 2 km from the city center
MONUMENT: FOUNDATION MONUMENT
Founded on June 16, 1698, the monument of a group of five statues was created by the sculptor Murilo Sá Toledo.
Location: Praça Antônio Vieira Tavares – Centro – Salto / SP – in front of the Mother Church of Our Lady of Monte Serrat
SQUARE: XV NOVEMBER
One of the busiest squares in the city. It is a meeting place for people of all ages.
Location: Av. Dom Pedro II, 930-1042 – Centro
---

Contribute to the environment
Take your trash
Collect rubbish if possible
ALWAYS PRESERVE THE NATURE