My goal be visiting Seville was the skydive dropzone but after spending some time at the city, my list of why visiting the city grew a lot. Besides the fact that it is a beautiful city, there is also the fact that the city has everything good that you can possibly want: skydive, trekking, point views, parks and a lot of bars <3
Here's a list of things to do:
FREE WALKING TOUR
Seville is about 2200 years old, that's old. And that makes it a place full of history, cultures, and places to visit. With the Civitatis Free Guided Tour you will travel through the past through the streets of Santa Cruz, and through the Christian, Muslim, Roman, and even Phoenician times.
Book your free walking tour here
SKYDIVE AT 15,000 FEET
The name of the school is Skydive Spain. Follow the prices (April 2018)
Tandem (Double Jump) – 235 €
Tandem (Double Jump) with shooting and photo – € 335
Ticket per jump – € 27.50 (for skydivers)
Equipment rental – € 16.50 (per jump)
Altimeter – € 5 (per day)
If you are an athlete, you must have insurance that covers the sport. If you do not have the school offers one.
To get to the area, consult: Click here
DropZone Site: Click Here
CHURCH: CATHEDRAL LA GIRALDA
One of the biggest sights of the city was an old minaret that was turned into a church tower. It has been considered a patrimony of Unesco since 1987.
Operation:
Monday: 11 to 15:30
Tuesday to Saturday: 11 am to 5 pm
Sunday: 14:30 to 18
Free Monday from 4:30 p.m. to 6:00 p.m. – reservation by site
Admission: € 9
Students up to 25 years: € 4
Address: Avenida de la Constitución, s / n. 41001 Sevilla
Website: Click here
Book a guided tour to Alcázar, Seville Cathedral and La Giralda
Click here
PARK: MARIA LUISA PARK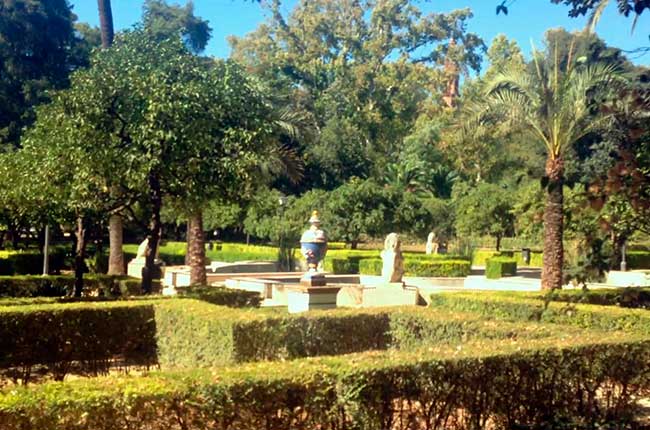 The city is well-known for having several parks and gardens, the most famous one and my favorite, is the Maria Luisa Park. There you can find everything, besides the gardens, there are several fountains, statues, and even a small palace. From Sunday there is handicraft market too.
Operation: Every day from 8 to 22
Address: Calle Parque de María Luisa, 41704 Dos Hermanas, Sevilla, Spain
Book a guided tour: Click here
PARK: LOS PRINCIPES PARK
Considered the second most beautiful park in Seville, the Parque de los Principes is behind Maria Luisa Park.
Address: Calle Santa Fe, 17, Seville, Spain
Address: Calle Santa Fe, 17, Seville, Spain
GARDEN: JARDINES DE MURILLO
Flowery and with a beautiful monument in the middle. The garden definitely worth a visit. It is simple but beautiful, with its several old trees and flowers.
Address: Calle Jardines de Murillo, Seville, Spain
GARDEN: JARDINES DEL VALLE
It is a very simple garden, but if you are looking for quiet, this is your place. The garden is located away from the tourist area, and therefore more frequented by locals than by tourists.
Address: Calle Maria Auxiliadora S / N, Seville
SQUARE: PRAÇA DE SPAIN
Built in 1928 for the Ibero-American Exposition of 1929, the square is a beautiful sight that certainly worth a visit.
Address: Av de Isabel la Católica, 41004 Sevilla, Spain

ARCHITECTURE BUILDING: METROPOL PARASOL
A must-have for architecture lovers is the building in La Encarnación square, in the old part of Seville, the monument was designed by the German architect Jürgen Mayer-Hermann (I bet you can not say that unless you are german 😛 )
Operation: Every day from 10 a.m. to 23 p.m.
Address: Pl. De la Encarnación, s / n, 41003 Sevilla, Spain
TRIANA BRIDGE
The bridge that connects the city center with the Triana district offers a unique view of the city. It's good for a walk in the morning.
Address: Puente de Isabel II, 30, 41010 Sevilla, Spain
BULLFIGHTS
As I am against the mistreatment of animals I will reserve the right to give me the minimum amount of information.
Plaza de Toros Real Maestranza
Bullfights begin on Easter Sunday and last until October.
Real Maestranza de Caballeria
One of the oldest in the country.
Times Museum:
November 1 to March 31: 9:30 to 19
April 1 to October 31: 9:30 to 21
Entry 8 €
Over 65 and students: € 5
Children from 7 to 11 years: € 3 €
Free entrance: Children up to 6 years old
AROUND THE CITY
MOUNTAINS: SERRA SOUTH OF SEVILLE
At the south of the Seville province, you will find a beautiful range of outdoor activities, such as sailing in Montellano, climbing in Morón and Algámitas (the highest peak in Seville), hiking trails, cycling, horseback riding, and even a sensational train raid by an old railway that goes through 26 tunnels.
MOUNTAINS: SERRA NORTE DE SEVILHA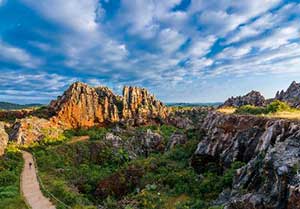 Aaah, but you're not going south, but north? No problem. The Sierra Norte de Sevilla is the perfect place to relax. With a lot of animals, birds, and trees, the place is perfect for trails and relaxation.
TREKKING:
PINSAOAR DE GRAZALEMA
Considered a Biosphere Reserve by Unesco, the trail is 11 km away and starts in Cadiz. It is famous for passing through the field of pinsapos (like those Christmas trees) and by Arabic towns.
The itinerary begins in the recreational area of the road CA-531, from Grazalema to Zahara de la Sierra and ends in Benhamahoma.
On some dates, you must hire a guide and request authorization for the course due to the risk of fires.
See more about the trail: Click here
LAS LADEIRAS – Cazalla Sierra
This trail is located in the Sierra Norte de Sevilla, so you should expect a lot of green! It is made with: Friends of Nature Association "El Bordón". In the Natural Park of the Sierra Norte in Seville.
See more about the trail: Click here

---
Now you are ready to go
But check my trip before
And after book your guided tour here!
Book your free walking tour
Contribute with the environment
Take your trash
Collect rubbish if possible
ALWAYS PRESERVE THE NATURE