Once considered the capital of christianity in the world, the city has a natural charm and an air of culture that is to be desired.
A historic city, full of nature and life, come see what to do!
SKYDIVE PUJAUT
As obvious as it is, I would indicate a skydiving area.
There is no doubt that here is the best place in the town.
Hours: Monday and Tuesday: 10 to 16
Wednesday to Friday: 9 am to 8:30 pm
Saturdays and Sundays: 8:30 am to 8:30 pm
Address: Aerodrome, Rue de l'Aviation, 30131 Pujaut, France
Website: Click here
PALACE OF THE POPES
This is one of the main sights of the city and also one of the most impressive Gothic buildings of the Middle Ages in Europe. In addition, is a UNESCO World Heritage Site. After 1309, it became the Pope's residence for a while.
Open time: Every day from 9 to 19
Address: Place du Palais, 84000
Price: 11 Euros (there is a ticket that for 13.50 euros you can make the Castle and the Avignon Bridge, below)
AVIGNON BRIDGE (SAINT BENEZET)
With a children's song, "Sur le Pont D'Avignon", inspired by, the bridge is considered a UNESCO World Heritage Site. It was built between 1177 and 1185 and was destroyed 40 years later in the invasion of Louis VIII. It is one of the main sights of the city. The entrance includes an audio guide that tells the history and legend of the place.
In short: A young pastor meets Jesus, who asks him to build a bridge over the river. When he shared the history with the people of the city, he is ridiculed and challenged to carry a huge block of stone to the river's edge. If he succeeded, he would be allowed to build. Done, the boy miraculously lifted the block and carried it to the shore. The people believed that he had divine help and from there had the support of the whole city in the construction of the bridge.
Tip: the sunset on the bridge is more than special
Open hours: November 2nd to February 29th: 9:30 to 17:45
March: 9 to 18:30
1st April to 30th June: 9 to 19
July: 9 to 20
August: 9 at 20:30
1st September to 1st November: 9 to 19
Address: Pont d'Avignon, Boulevard de la Ligne, 84000
Price: 12 euros
Students: 6.50 euros
(an audio guide with 11 different languages)
Make an amazing tour through Roussillon, Gordes, Les Baux, and Pont du Gard: Click here
NOTRE DAME DES DOMS CATHEDRAL
Next to the Palace of the Popes, the Cathedral, which is also a UNESCO World Heritage Site, was built in the mid-12th century.
Address: Place du Palais, 84000
GARDEN OF DOMS (ROCHER DES DOMS)
Charming little garden with a fountain, ducks, flowers and a panoramic view of the river and bridge, which is the coolest but I don't have a picture. I was too busy looking at it 😘
Open hours: Every day from 7:30 to 22
Address: 2 Montée des Moulins, 84000
WATCH SQUARE (PLACE DE L´HORLOGE)
The city's main square is surrounded by the City Hall buildings (Hotel de Ville) and the Opera House.
MUSEUM DU PETIT PALAIS
The museum has a collection of Provencal and Italian paintings from the 13th to the 16th century, as well as Romanesque and Gothic sculpture collections.
Price: 6 euros
Open hours: Wednesday to Monday: 10 am to 1 pm – 2 pm to 6 pm
Address: Palais des Archevêques, Place du Palais
PONT DU GARD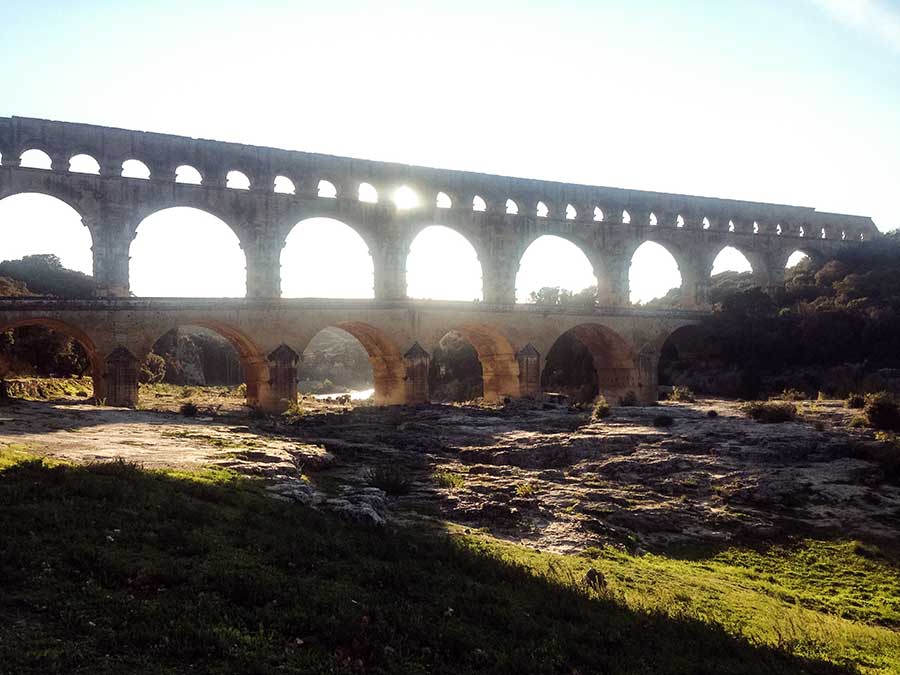 25 km from the city of Avignon, the Pont du Gard is a great choice for some walking or hafting. It was built shortly before the christian era to help the nearly 50 km long Nîmes aqueduct to cross the Gard River.
Price: 9,50 euros (parking, entrance, and museum)
Students: 7 euros
Up to 17 years old: free
Open hours:
January, February, November, and December: 9 am to 6 pm
April and October: 9 am to 8 pm
May: 9 to 21
June and September: 9 am to 10 pm
July and August: 9 to 23
Address: 400 Route du Pont du Gard, 30210 Vers-Pont-du-Gard
You can book a tour guide: Click here
Papal Palace Light Festival (AUG / OCTOBER)
A light show that takes place at the Palace of the Popes, which usually happens from August to October.
Price: 11 euros
Under 8s: Free
Website: Click here
AVIGNON FESTIVAL (JULY)
Festival that takes place in all the city center, but mainly in the Palace of the Popes during the month of July. At this time the city breathes art, festival and theater.
Website: Click here
WINES AND WINE TOURISM
The synonyms of France: wines <3
Since 1996, this beautiful town has been considered the capital of Côtes du Rhône wines, an expression used to classify and standardize production and culture on the shores of the Rhône.
More information on the website: Click here
---

Now you are ready to go!
But check my trip before
And after book your guided tour here!
Contribute to the environment
Take your trash
Collect rubbish if possible
ALWAYS PRESERVE THE NATURE