The second-largest city in Germany is all green, rivers, and amazing places to visit, like, a lot of places to visit, and they are all worth it, especially at Christmas time. If you disregard the disturbing cold, the Christmas markets always leave the city with a super magical and welcoming vibe.
Below I tried to put a list of places to visit in the order of what is most worth visiting according to my beautiful self
FREE WALKING TOUR
One of the greatest ways to explore this beautiful city is with a free walking tour, this way you can learn all about its history, during World War II and even before that, during the pirates times!
Book your free walking tour here
CHRISTMAS MARKETS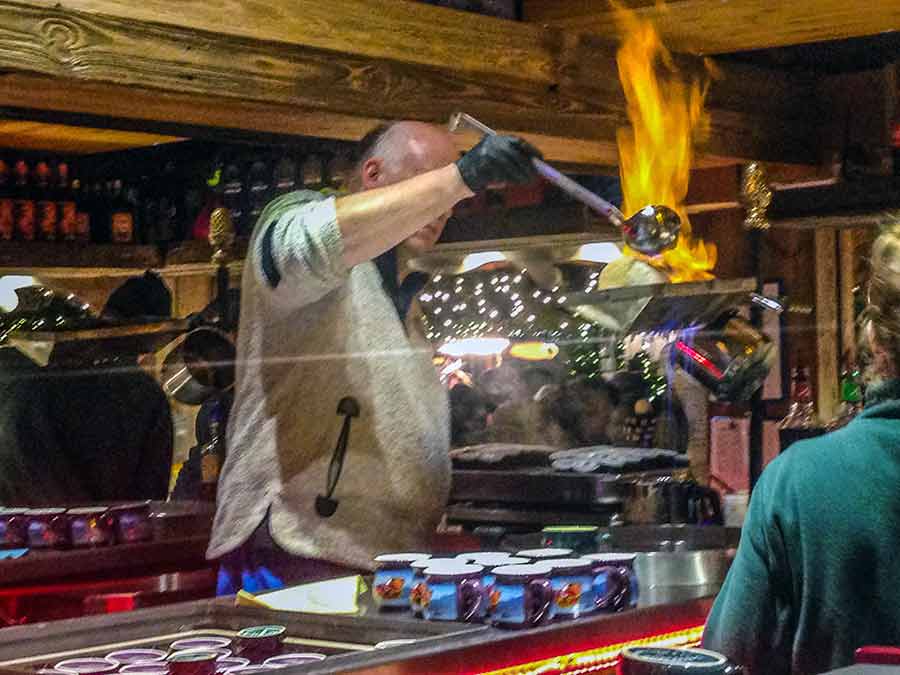 The Christmas markets happen during Christmas!🤣
It happens on the squares all across the city, and they bring amazing life and color with it. One of the best things to try is hot wine. It's. just .delicious.
PORT OF HAMBURG (HAFEN CITY)
A good place to start your tour is at the Hamburg Port, one of the largest in the world. In addition to a great boat ride, you can also visit several tourists stops and get to know some of the best places in the city.
These are a couple of options for your tour:
If you decide to do with a guide, I recommend you to go to Landungsbrücken, have a beer, and hire one of the tours about the history of the port there. The tours can be in English or German, with a person or audio guide, from 1 to 2 hours.
For a more economic option, you can make the tour without a guide, obviously, that was my choice. Just take the ferry 62 on bridge 3. It goes to Finkenwerder but makes several stops along the way. If you have a Hamburg Card, the transport by ferry is already included. If not, just buy a ticket for 3.20 euros right there on the pier.
The boat stops in several tourist spots in the city.
Below is a list of places to visit from the port:
.DOCKLAND
A triangular-shaped building that has a spectacular view of the port's containers. The best part is that you can climb on the roof to enjoy the landscape.
Location: Van-der-Smissen-Straße 9
Getting there: Boat, line 62 | Bus, line 11 (stop Fährterminal Altona)
.NEUMÜHLEN / OEVELGÖNNE
The stop is in an old fishing village with houses with beautiful architecture. You can also see some old ships, and the port museum, one of the largest in the world and the oldest in Hamburg.
.STRANDPERLE BEACH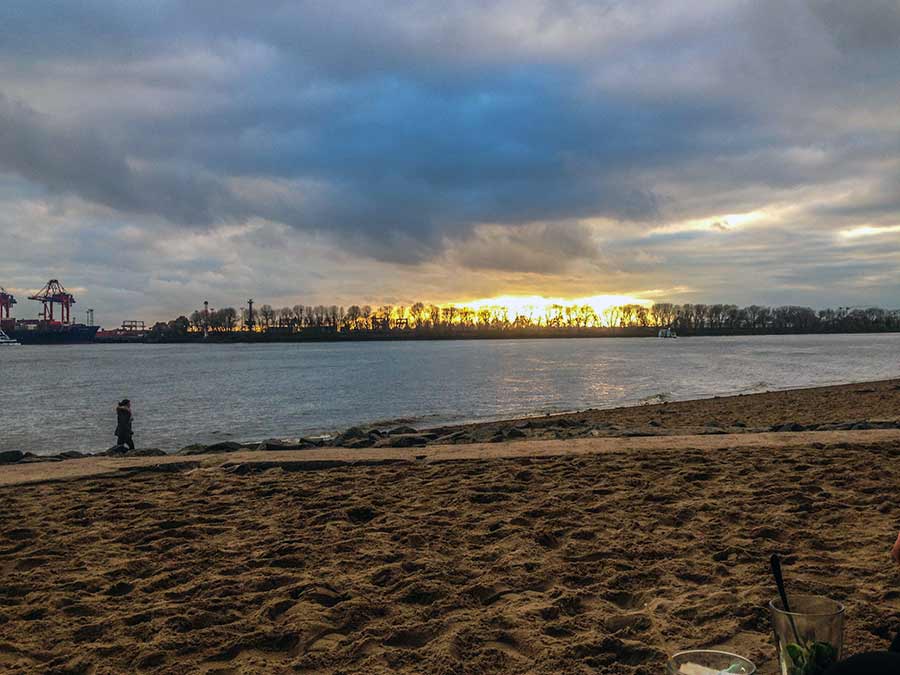 We can call it a beach or a small layer of sand at the river's edge, you decide. But whatever you call it, a walk around here during sunset, and a beer with your dinner is a great choice.
.FISH MARKET
This place is on the boat tour list, but I advise you to come here after a good Saturday night party. Before going home, just end your night with a delicious fresh fish (herring) sandwich. But even if this is not your vibe, the market is a place full of life, smells, good food and fun, which definitely makes up for the visit at any moment.
Opening hours: Sunday from 4:30 am to 9:00 am (earlier in winter, later in summer)
After finishing your river tour, you can continue by crossing the city through the tunnel:
ELBE TUNNEL – ALTER ELBTUNNEL
Built in 1907, and in use since 1911, the tunnel was once considered a piece of art in engineering. It runs under the River Elbe and connects the center of Hamburg with the south side of the river. Today, visiting the tunnel is an amazing experience, an old elevator drops you 28 meters below the ground where you cross the river in a super retro tunnel with 426 meters wide
Location: Geschwister-Scholl-Straße, 100
Opening hours: Every day from 9 am to 7 pm
Book a tour to know more about the famous town hall square, Speicherstadt, and HafenCity
WAREHOUSE / SPEICHERSTADT
One of the most beautiful regions of the city is a large warehouse area that was built on wooden pillars in the 19th century between the rivers of the region, Today closed, the warehouses were used to store tobacco, spices, silk, dried fruits, and coffee. According to the locals, it has more than 2500 bridges, more than Venice.
INTERNATIONALES MARITIMES MUSEUM
With 9 floors and more than 3,000 years of maritime history, the museum is a place that lovers of ships and history should visit. There you have everything from miniature boat models to construction plans.
Location: Koreastraße 1, 20457
Opening hours: 10 am to 6 pm
Price: € 14 | After 16: € 6
MINIATUR WUNDERLAND
With more than 12 thousand meters of tracks and 890 trains, this miniature world is a giant model that recreates 5 regions of the world: Southern Germany, Hamburg, America, Scandinavia, and Switzerland.
Location: Kehrwieder 2, 20457 Hamburg
Price: € 15 | Buy online
ELBPHILHARMONIE CONCERT HALL
One of the largest and best acoustic concert halls in the world. This building was built on top of one of the largest warehouses in the region, that was built in 1875. The top part was built and opened recently, in 2017, made entirely of glass.
Location: Platz der Deutschen Einheit, 4
Price: Free entrance (Depending on shows and calendar)
Book a tour guide to know the history and its construction: Click here
REEPERBAHN (Red District)
Hamburg's best nightlife option, Reeperbahn, is full of bars, food trucks, clubs, cinemas, and theaters, in addition, is the place where the Beatles began their career, playing at the Kaiserkeller club, 36 Grosse Freiheit.
The place is also a prostitution zone, as the Red Light District of Amsterdam, with women exposed in shop windows, and access restricted by a wall.
.BEATLES TOUR
If you are a Beatles fan, there is a city tour that shows the places they played before they became world-famous. The most popular is the Beatles-Tour which has a guide who was born in the area and followed the path of the Beatles and other bands.
Tours: Thursday to Sunday at 5 pm, lasts about 1:15 minutes
Price: $ 19.50
You can also book a guided tour passing by St. Pauli, Red Light District and the Harbour Tour.
SUNSET AT LAKE ALSTER
As the second most important river in Hamburg, the River Elbe is a key part of the city's scenery. It is divided into two parts, the Upper Course and Lower course, the latter being the source of two artificial lakes in the city; the Outer Alster, and the Inner Alster that passes through Hamburg. In this lake, you will find several white swans that make a beautiful sunset view.
HAUPTBAHNHOF, SAINT GEORG:
THE GAY NEIGHBORHOOD
A cosmopolitan neighborhood, full of coffee and restaurants of various nationalities. The publisher Brüno's, one of the largest gay book publishers in the world, is located in that neighborhood. To find out about the program, just grab one of the free magazines available at several Lange Reihe, Hinnerk or Blu establishments.
NEUENGAMME CONCENTRATION CAMP
One of the largest concentration camps in northern Germany, Neuengamme was opened in 1938, 15 km south-east of the city. More than 100,000 people passed through these sad gates. In the beginning, the majority were opposition politicians but later Jewish people, Sinti, Romani, and homosexuals were also sent to this terrible place.
CHURCHES, PARKS, and OTHERS
If you have time or want to see a little more of the city, here are some not so famous tourist spots, but worth visiting:
ST. MICHAELIS KIRCHE CHURCH
Built in the Baroque style between 1750 and 1762, this is one of Hamburg's most famous churches. The 132-meter high tower has one of the best views in the city, I recommend taking the elevator up and going down by the stairs.
Location: Englische Planke, 1
Price: € 5
PLANTEN UN BLOMEN PARK
With a Japanese garden, some small lakes and cafes, this park is a great place to relax. In summer there is a pavilion with live shows every weekend, and in winter an ice-skating rink.
Opening hours:
Every day from 7am to 8pm.
WALLRINGPARK
This is actually a large recreational area, with several tourist spots, including the old Botanical Garden, the Kleine and Grosse Wallanlagen gardens, and the Heinrich Hertz communication tower.
Address: Marseiller Str, 20355
Some museums for you to check out:
KUNSTMEILE HAMBURG
This group of 5 museums: the Kunsthalle, Deichtorhallen, Museum für Kunst und Gewerbe, Kunstverein, and Bucerius Kunst Forum, is one of the most famous of the city.
The most highly recommended are the following:
KUNSTHALLE
One of the best art galleries in Germany, with 3 connected buildings full of modern, contemporary art, and works from the 14th to the 17th centuries. Arts from Renoir to Picasso and Andy Warhol.
Location: Glockengießerwall, 5
Price: € 12
DEICHTORHALLEN
The museum started with the junction of 2 19th century markets that were transformed into exhibition rooms made of concrete and glass, featuring exhibitions of photography and contemporary art.
Location: Deichtorstraße, 1
Price: € 10
Access price for all 5 museums: € 36
HAMBURG HISTORY
Opened in 1908, the museum shows all stages of Hamburg's development.
Location: Holstenwall, 24
Opening hours:
Every day, except Tuesdays, from 10 am to 5 pm.
Price:
€ 9 | € 5.50 (students) | € 7 groups of at least 10 people
RATHAUS, CITY HALL
With Renaissance-style architecture, the tour lasts about 35 minutes
Location: Rathausmarkt, 1
Price: € 4
Tip: next to the City Hall is Mönckebergstrasse, the main shopping street in the region.
OHLSDORF CEMETERY
As the largest rural cemetery in the world, this is also the place where more than 400 prisoners, soldiers, and victims of Nazi persecution were buried.
Address: Fuhlsbüttler Straße, 756
Official website: Click here
ST. PAULI and STREET ART
With all the walls and doors covered with graffiti and drawings, these streets, besides being beautiful, are full of coffee shops and churches with beautiful architecture and history.
Price: € 12
---
Now you are ready to go!
But check my trip before
And after book your guided tour here!
Book your free walking tour
Going to Berlin? Check this travel guide
Contribute to the environment
Take your trash
Collect rubbish if possible
ALWAYS PRESERVE THE NATURE