Salvador is certainly a must. The best way to describe the place is: Bahia is beautiful my friend!
I barely arrived and I was already amazed with the beauty of the outside avenue, there is a wall of bamboo that forms a beautiful walkway, as it was at night the colored lamps on the floor were connected and gave a magic touch to the place: Congratulations, you is entering the Axé Wonderland! Lol.
The city is all about culture, there is a rustic air full of history and past, you know?
If it were not for the axé present loud and clear, the cobbled streets, the baroque houses and the smell of the sea would take you to another time. The textures on the walls take you to many years ago and the graffitis on the side brings you to the present. A visual journey.
Well, my trip to Bahia was actually a visit to my father who lived there at the time, so "papis" was my private driver and tour guide <3. Well, we can already imagine that the alcohol was moderately below my acceptable standards and the curses reprimanded , Buuut, returning to the subject, the first place that the landlord took me was to the Farol da Barra, and it was there that I witnessed the most classic and comical scene of Bahia!
I am a typical Brazilian tourist, southern accent and full of energy and kind of looking at the necklaces that only the tourist buys. My father and my stepmother, who, after two years, were already in the color, accent, and manner of Bahians, were very patient with my drooling for everything, so after looking for a couple of years a necklace my father decides to ask the price. The boy looks at my father, looks at me, looks at my father:
-For you is 3 reais!
Then a girl, who was by my side, with the same characteristics that I, read: TOURISTIC, turns around and asks how much is it?
– Ten reais
Indignation, WTF face: – What do you mean? You just said it was three!
– "Relaaaax "neguinha". You are in Bahia? It's ten reais!
Pause to laugh about the memory
PS: the girl did not buy the necklace.
But back to the Farol da Barra: so it is, hight and old. And there's a museum in there with boats miniatures, caravels and boats; plus, there is a wall full of glasses with little boats in it, I love it, I imagine an old man with potted hair, only on the sides, you know? He is wearing those glasses that have several degrees, patiently mounting the boats inside the bottles, in a cozy wooden hut with a campfire accesses in the bottom and a plate of biscuits and a glass of milk on the side. soooo cute .
Farol da Barra! There's also a cannon there, nice place to take pictures. And that's what I have to say about it. Oh, no wait, I was forgetting the most important thing: there's a coffee shop there. Delicious coffee.
We also passed by the Lacerda Elevator, which is just an elevator, through the center where we saw a legitimate Bahian, legitimate capoeira and a number of legitimate churches. But it was in the Church of the Third Order of San Francisco that, in the midst of terrifying and frightening puppets I I found God, that's right, God. Or Michael Jackson, whichever you prefer, too much dude.
Continuing, the church was filled with beautiful sculptures, paintings and blue tiles, huge halls, clothes made of gold and other things very cool, but Michael Jackson rocked it brou!
Jumping to the next interesting point: Praia do Forte. To start there is a center of the Tamar Project over there, that is an institution that takes care of the turtles, and, as you can guess there are a lot of turtles, aaaaand, also sharks, sea stars, that has nothing to do with Patrick, sea poo, (I do not know the name and I'm not interested in knowing, for me, it looks like a moving poo, like the ones my older brother used to call me to see and it was an interesting thing but he just wanted to screw me), stingrays and a lot of sea animal. The entrance fee is not expensive and if you have a student card you are entitled to half.
And You can also go snorkeling in one of the most wonderful environments at Praia do Forte. Click here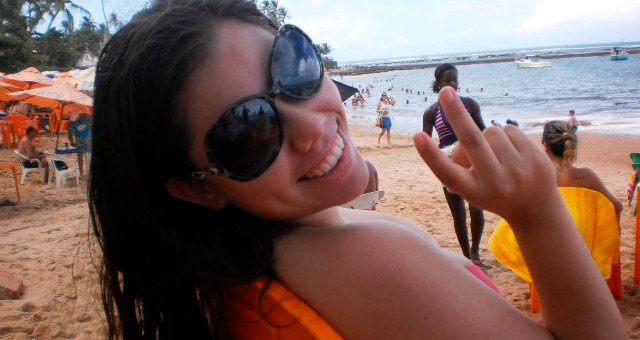 The beach there is great too, you can sit on a beach chair, have a beer and eat a fried shrimp. But for you to take a dip there is something much more interesting than a simple beach, if you walk a little further you will end up finding several natural pools where you can lie down and relax. And if you look a little, you will find live water, crab and beautiful siris! <3
Now Salvador is not just a beach, if you want to take a day to take a swim in fresh water there is also the Lagoa de Abaeté, it is like a beach but it is surrounded by mountains, white sand and coconut trees. It is certainly a great place to take a break from the salt water of the sea.
Summarizing to get to the end: I went to the market, waited 500 years for a beer in a restaurant that was not full, I bought a berimbau that can't be touched, I made reggae braids, as any tourist ever, I woke up 5 o'clock in the morning to see the sunrise, I walked barefoot on the beach, I ate a spicy acarajé and talked with Vinicius de Moraes. But I don't really have much to say about the beaches, is just: they are all beautiful, beautiful and more beautiful.
Now relax dude, you are reading a post about Bahia.
For those one's who don't know: Bahia is considered the place with the calmest people in Brazil. Annoyingly calm type
---

Check more info about Salvador
Book a free walking tour!
And another Tours and Guides here!
Contribute to the environment
Take your trash
Collect rubbish if possible
ALWAYS PRESERVE THE NATURE