The first place on my travel list was El Chorro, I will not count Malaga because my time there was kind of accidental right ?! But anyway, I wanted to start my journey doing what I like best: extreme sports. 😜
Known for being a climbing place in Spain, El Chorro, with hundreds of climbing path and different levels of difficulty, climbing there was one of the things I wanted to do, but that was not all, El Chorro is also the place where is located the most dangerous trail in the world: El camino del Rey.
With these two wonderful options, I did not need any more reason to go, I was already on my way.
My love, like everything in life, things have always begun going wrong. I arrived in El Chorro by train, I stopped for water and start to get ready to go to my 3 km walk until the hostel. I was not worried, 3 km is ok, so I grab my small backpack of 20 kg, put in the back and another large backpack of 8 kg in the front and there to take a walk.
Dude, it did not take long for me to realize that these 3 km were not 3 km just like that ride in the city park, it's 3 km uphill, FUCKING UPHILL! WHY?? WHAT'S THAT FOR? It was midday and the sun and was there, just burning everything around while I was looking like a bag of helpless manure.
Maaaaaan, what was that? No wondering that when I arrived at the camping place, the only thing I wanted was to sit down. I didn't give a shit for the nice girl (Rachel) who came to greet me in a super nice way, and I ignored her because I had a single mission: sit and take that fucking backpack off me. Okay, okay, I'm fine, let me give hi to this human being here.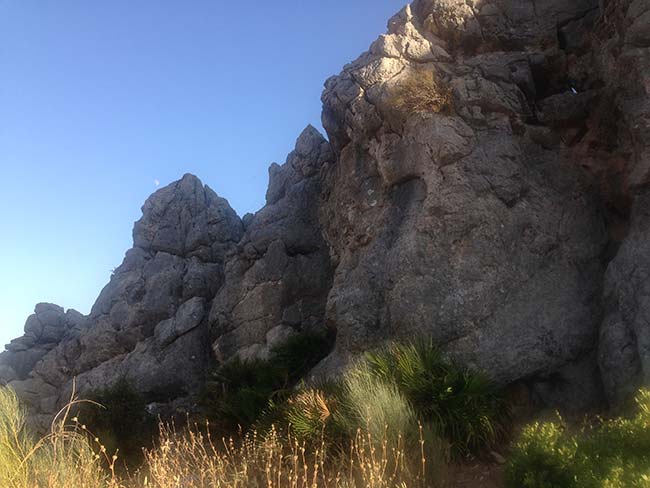 Duly introduced and installed, I discovered that the people who worked there were climbers and all very fun people, and I, of course, the shy person I am, was already asking if I could go climb with them.
Man, there are so many path to climb over there, seriously. You are walking disrtracted and then stumble and fall on one track, you sneeze and face another one, that place is very good, very fucking good. Anyway, we went to climb, and I wanted to do an easy one, because, you see (excuse mode: on), I had done the big walk in the morning, I had just arrived from the trip and I was tired and so…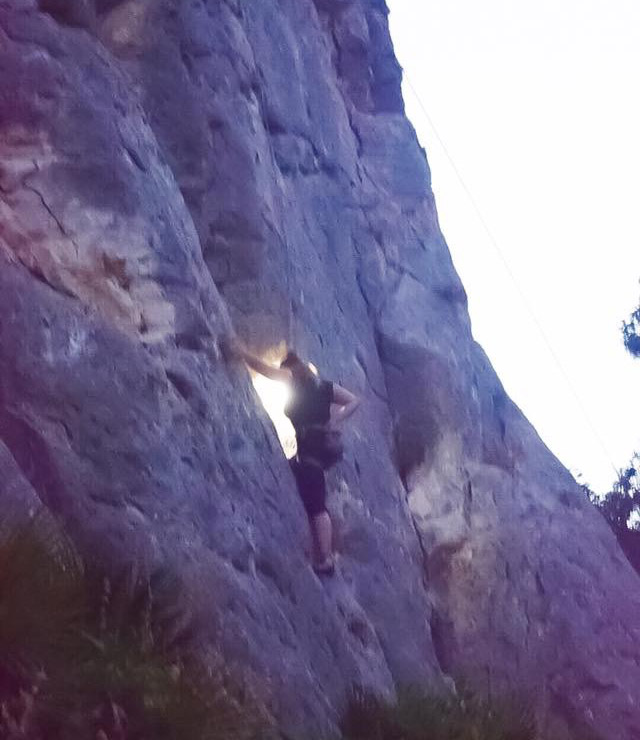 The next day I had no excuse, we were climbing for real this time, we went to Rocabella, a little bit far, but that was fucking horrible great. The path itself had several level options, and with much encouragement from the group, I decided to go leading the path for the first time. (Lead the way: be the first person to climb). Duuuude, I loved it, it's like it's my first time climbing, with all that cold in the belly of something new and dangerous. A very tasty fear.
Then I got carried away, I started to climb one behind the other, until night. What's up? Will stop? Of course not, I've already hit a headlamp (headlamp) in the head and continue climbing, until a moment I can not see where to put my foot, and try to take a look with the lamp and then I saw, and the I fell. Ooooooo, no more feet, no more hand, whatever, at least now I know where is everything.
But it was not only for climbing that I had gone to El Chorro, but I also wanted to do the most dangerous track in the world: El Caminito del Rey. I had read several things about how that trek was dangerous, how it was done for hundreds of years ago to the water collection and such. And like John, an Englishman who worked there was not gone, we took a day to take a role on this most dangerous track in the world.
When I got there, there was a huge queue, so I had the time to pay attention to the other people doing the trek. The first lady that I saw was, let's say, curvy, very curvy, and she was there, to do the hick, Courageous, right, it's the fucking WORLD'S MOST DANGEROUS track ever!
Wait, there are also, like, children around here, families, old people, definitely a strange public to the most dangerous trek in the world, right?
Whatever, we paid the entrance, 7 euros, and went to the trail. And it didn't take more than a minute for us to realize a certain slander, infamy, a tragedy!! The most dangerous treck in the world has been reformed and now it is complete, I mean, completely safe my friends, completely fucking safe !!! What a shit thing to do, what a fuck the government was thinking? security? 😂😂 Whatever, what can we do, right ?! The view is beautiful, good, very pretty and blabla. But as a good nonsense people that I and John are, we decided to go climbing through the way, after all, we are on a mountain. And we did this until a security man came and told us that we could not do this and that if we continued we would be taken off the trail (detail, we'll be taken away where? You'll have to finish the trail with us anyway, right ?! lol) but ok.
Book your tour: Click here
Between falling in love with the climbing routes and making the safest trail in the world. My passing by El Chorro could not have been better. Like, I had just left Brazil without having a date to go back. The anxiety of going through a rush was soon solved by the wonderful place that is the city. Not to mention the guys at Olive Branch Camping who made me feel safe and home. It was the best place to start a backpacking trip. If you go to Spain, you defenetelly need to go to El Chorro.
---
Check it out more info about El Chorro
Contribute to the environment
Take your trash
Collect rubbish if possible
ALWAYS PRESERVE THE NATURE