POINT OF VIEW: MIRANTE DO CRISTO
Lookout with a view of the whole city and a Christ Statue.
Location: Estr. Municipal Cristo Redentor, Socorro, São Paulo
SQUARE: PRAÇA DA MATRIZ
It is the central square of the city, with the Mother Church of Our Lady of Perpetual Help in the center. The square is full of historic mansions, cafes, bars and clubs. I recommend a visit to the bars of the square at night.
Location: Cel. Olimpio Gonçalves dos Reis, Socorro, SP
GROTTO: GRUTA DO ANJO
The result of the mining in 1960, the cave has a natural pool of mineral water with 4 meters depth and the average temperature is around 10 degrees. There are pedal boats to ride around the cave. Is a very beautiful place.
Location: Estrada Socorro / Munhoz Km 1, (known as the road to Rio do Peixe) 2 Km from the city center
Value: R$ 15,00
Tip: At 5:00 p.m., the sun gets the cave entrance causing a beautiful view.
POINT OF VIEW: PICO DA CASCAVEL
It is the highest part of the city and is one of the most visited, along with the Bela Vista Stone for Flight-Free Practice. The place is perfect to a sunset view.
Activities: Hang Gliding
Location: A5 km from the city of Socorro., Entrance towards Morro da Torre. (Bairro do Brejo)
Value: R$ 5.00 per person
POINT OF VIEW: MIRANTE PEDRA DA BELA VISTA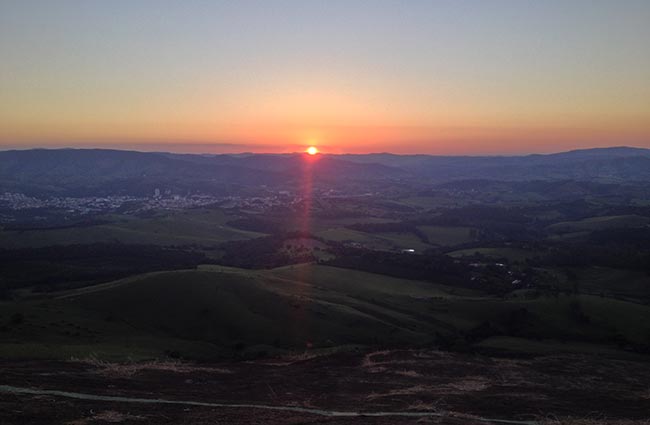 The name could not be more exact, the place has a large plate where you can see almost all the city of Socorro, at the bottom of the view there are some mountains and the sunset it is phenomenal. the place also has a structure for a rappel of 90 meters, 30 meters are "negative", and a mini rappel of 15 meters in a stone on the side.
Activities: Hang Gliding, Abseiling, Trail
Location: Entrance to the Municipal Road Da Pedra Da Bela Vista
RAFTING: RIVER – RIO DO PEIXE
It is the river that divides the state of Sao Paulo and Minas Gerais, it has waterfalls and rapids for the practice of rafting sport by beginners and tourists. The city is full of schools to take the tour, so just choose and have fun.
PARK: ECCO PARK
Tourism company that is concerned with the natural and cultural heritage, encouraging its conservation and the search for the formation of an environmental conscience, promoting the well-being of the population.
Activities: Waterfalls, trail, natural pools, whirlpool and waterfalls
Location: Estrada do Juncal, Estancia de Socorro / SP – Tel .: (11) 7892 1854 – 9 * 64683
PARK: PARQUE VALE DAS PEDRAS
With 600,000 m2 is formed by Mata Atlântica, in the Serra da Mantiqueira where you will find historical artifacts, waterfalls, ecological trails, farm animals and adventure tourism amidst a lush rural setting.
Activities: Waterfalls and hiking trails
Location: Varginha Road, km 2,5 – Bairro da Varginha – Socorro / SP
CLOTHES MARKET
The city is also known as a shopping tourism, with more than 50 stores of knitwear manufacturers, with different segments and styles.
Open from Tuesday to Sunday
Location: Av. Dep Antonio Silvio da Cunha Bueno (Rod. Bragança Plta – Lindóia), 3230

---

Now you are ready to go!
Just check my trip before 🙂
Contribute to the environment
Take your trash
Collect rubbish if possible
ALWAYS PRESERVE THE NATURE