With tons of waterfalls, trails a and breathtaking natural landscapes, Tapirai has about 80% of the area dominated by the Atlantic Forest and protected by the APA – Environmental Protection Area. Look at the map and the touristic points: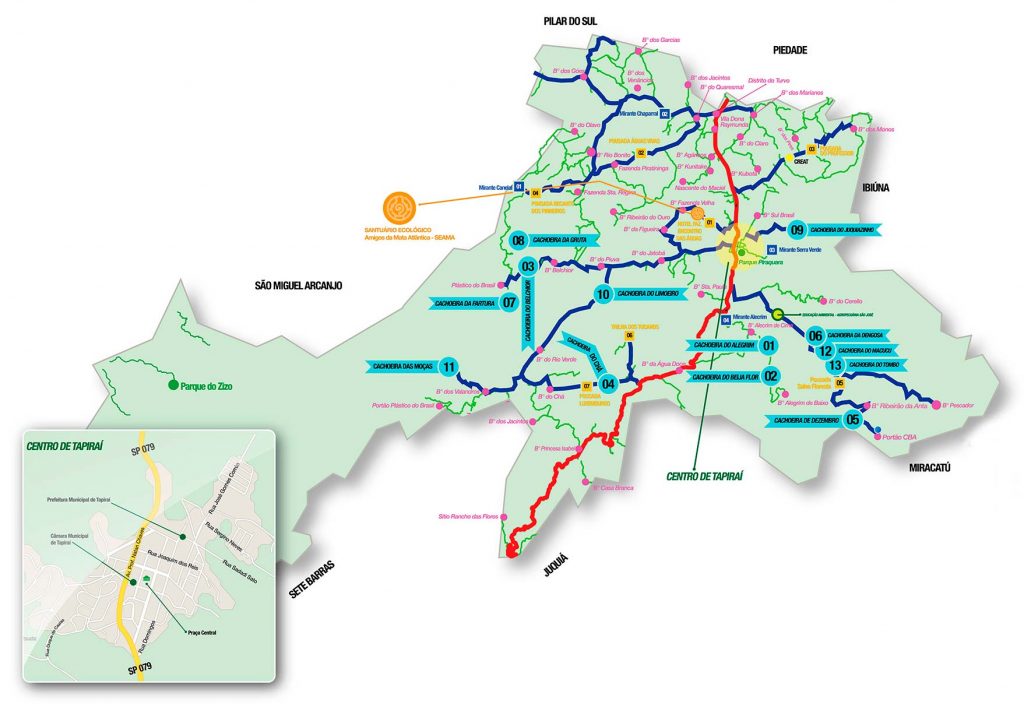 TREKKING: TUCANOS TREK
It's a very safe trekking and easy level, it's perfect for families and children, and it's considered the perfect place for birdwatching. The trekking, 850 meters long, is part of a group of trekking in the region, totaling 3,700 meters. The other treks area: Surucuá (760m), Macuco (910m), Tangará (870) and Juruva (380). Those are well signposted along the way.
Take a look at this map below to get a better idea.

TREKKING MAPS:
Location: Rodovia SP 79, Km 164
Website
WATERFALL: TEA WATERFALL
This is the main attraction of the city, the waterfall is about 30 meters high and to get there is an easy trail of about 1 km around the Owls River. This waterfall is a beauty by itself, but attention, the current is strong which so it's not a good place to take a waterfall shower. But, do not be discouraged, there is also a natural pool for some swimming.
Location: Bairro do Chá – Estrada da Fazenda Velha (15 km from downtown)
WATERFALL: LIMOEIRO WATERFALL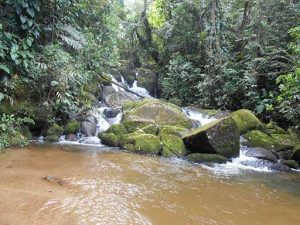 That's actually a site with several waterfalls, and the main fall has a small grotto and a natural pool. Do you want more? ok, The access is very easy.
Location: Bairro do Limoeiro

WATERFALL: ALECRIM WATERFALL
With 4 meters high and a natural sand pool below, the waterfall is one of the best in the city and it has easy access.
Location: Rua Municipal

WATERFALL: HUMMINGBIRD WATERFALL (Cachoeira do Beija Flor)
The waterfall is in a private area, meaning if you are not staying at the Hotel they may charge you to enter. But to get there it's about 3km from the center, and it's an easy-moderate trek in the middle of the forest.
Location: RoadTRM Km 12 | Pousada Salve Floresta

WATERFALL: JUQUIAZINHO WATERFALL
This waterfall has several falls and is very beautiful, the main one has a cave and a natural pool, but it may not be good for bathing due to strong currents. The trek to arrive there is very beautiful. And the level I would say is moderate to easy. (not recommended for children and seniors.)
Location: Guilherme Gil Street | Tpr-42 – only 2km from the center
WATERFALL: CERELO WATERFALL
With a bug fall, this waterfall is in the same stretch of the Juquiazinho Waterfall, but the trek there is a little harder, I would say moderate level. It is recommended to go with a guide.
WATERFALL: WHITE RIBBON WATERFALL (Cachoeira Fita Branca)
This is one of the largest in the region, with a long and moderately difficult trek. During the route, you can see the charcoal and some tapirs by the site. The trek, with the same name, begins at Mirante da Fita Branca and ends at the Mestre Trail. You must schedule the trail in advance.
Location: Rodovia SP 79, KM 164,5 | Entrance through Zizo Park (City of São Miguel Archangel)
WATERFALL: TOMBO and TATU WATERFALL
The trail up to the waterfall is easy and well maintained. To reach the waterfall is necessary to cross the river in several points.
Location: Road TRM Km 12 | Sightseeing

WATERFALL: BELCHIOR WATERFALL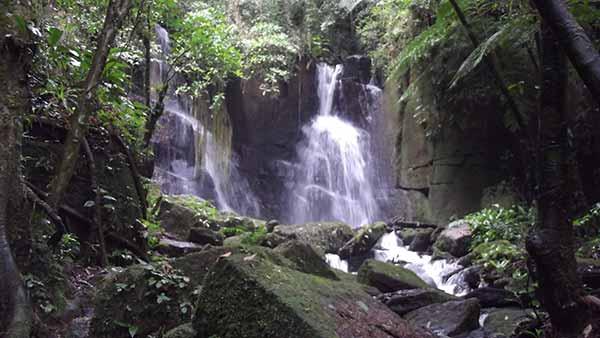 The trek to arrive at this waterfall is easy and short, about 1 km or so, depending on where you are coming from, you might need to cross the river sometimes. The waterfall has two falls of 15 meters in height, and it's perfect for swimming.
Location: access by km 164,5 of SP 079, direction Juquiá
WATERFALL: MACUCO WATERFALL
This waterfall has a natural swimming pool what is good for bathing and swimming, I would say the trek to the place is moderate- hard level.
Location: CBA Road

WATERFALL: MONOS WATERFALL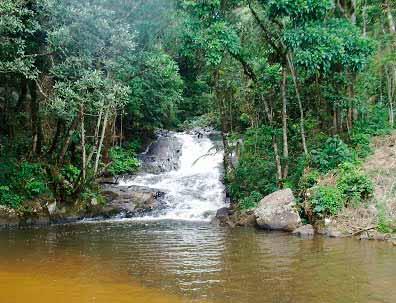 Waterfall with a small fall and easy access trail.
Location: Piedade Road, Monkey Quarter

TREKKING: WET OF ANTAS (Poço das Antas)
The trek to the well is of moderate level, about 6.5 km, at the place you'll find a natural pool and a small waterfall perfect for a shower.
Location: Road TRM Km 12 | Sightseeing
WATERFALL: LADIES WATERFALL (Cachoeira das Moças)
To access this waterfall you need to do a moderately difficult level trekking, you'll also need to cross and climb the river to reach the waterfall falls.
Location: Bairro dos Valandros
WATERFALL: DECEMBER WATERFALL
To get there you will need a boat that will take about 20 minutes. The coolest part of this waterfall is that there is a sandbar that divides the waterfall of the dam of the Alecrim, that is, cold, with warmer waters.
WATERFALL: GROTTO WATERFALL (Cachoeira da gruta)
With a small fall in a deep hole, the waterfall is inside a grotto. The access is moderate level.
Hotel Area: Belchior
WATERFALL: DENGOSA WATERFALL
Waterfall with small fall and easy trail.

Location: CBA Road
WATERFALL: FARTURA WATERFALL
Waterfall with a medium fall that forms a well just below. The trek to get to it is moderately difficult.
Location: Bairro Canelau
PIRAQUARA PARK
Is a space to have some fun and with ecological treks. Here you can do kayak, paddle, zip line, rock climbing and fishing.
Opening hours: Saturdays and Sundays (rural modality), from 9am to 6pm.
Contact: (15) 99633-8654.
Hotel Area: Centro
---

Now you are ready to go!
But check my trip before 🙂
Contribute to the environment
Take your trash
Collect rubbish if possible
ALWAYS PRESERVE THE NATURE