A tour in the Sahara Desert. I think this is on the list of all humans in this universe. But as a poor traveler that I am, I was suffering and counting the coins to see if I could pay for it. I knew there was a "cheap" option, 40 euros, but that was to arrive one day and go away in the other. And 40 euros in 2 days, it's a lot of money in my shy traveler budget.
I was talking to Morocco Desert Trips, and in return for some marketing services from my agency, Art Work Creativity, they would offer me the desert tour, food, water, and accommodation.
So I took a night bus, saving one accommodation day money 😎, and went to Merzouga, as soon as I left the bus I was very well received by the company staff, who took me to a Rihad where I had a delicious breakfast and stayed until the time of the tour.
At five o'clock in the afternoon, as it would be foolish to walk in the desert with a strong sun on the heads of delicate tourists, our group of 7 people gathered to get on the camels, and I chose the coolest one, of course, Jimmi Hendrix, the first of the queue.
The recommendations were simple and easy to follow by anyone with a brain. Hold in the cell whenever you go up or down the camel and hold in the cell in every big downhill. It was also warned that it could be uncomfortable for the butt after a while, but that part I ignored, after all, I used to go to grandpa's house every holiday to ride the horses, so I'll be ok
After about 15 minutes, Jimmi Hendrix became Satan Hendrix. Man, did you know that you can have cramps in your butt? I don't know if you can either, but I was so uncomfortable that it might as well have been that, you know, I'm a drama queen!
But even with that discomfort in the butt (this is very strange to read), I was still amazed looking at the desert, how beautiful, how full of sand, how beautiful the sands on the ground, the sands flying, the sands. .. in my eyes! As I was all silly looking around, I didn't realize that a sandstorm was coming. After some time I was with sand in my ear, in my mouth, in my eyes, f ***, there was sand in all my holes! And 1 minute later, guess what? Blue sky! So disrespectful!
But whatever. I have no idea how long we walked, but we arrived at our destination, and I, of course, wanted to take a picture of the place. You see, we've arrived, we have to get off the camel, right? It's not difficult to realize that, is it?
Any human with a brain would make that connection. And do you remember the instructions? The super complex instructions of what to do when going down or up on the camel? And, even though they were super complex, the guide was repeating them again in case of some brainless human being were present. I, me, myself, human being focused on not paying attention in life, guess what I did?? I did not pay attention, and while the camel was going to lie down, I was there, taking pictures.

The guide ran desperately to me while he screamed, Hold! Hold! But it was already too late, I was halfway to my front somersault, prettier than saying face fall, when he blessed arrived and managed to hold me halfway.
He's all worried: Are you okay?
Me: Oops, I forgot to hold
He: Yeah, I realized !!!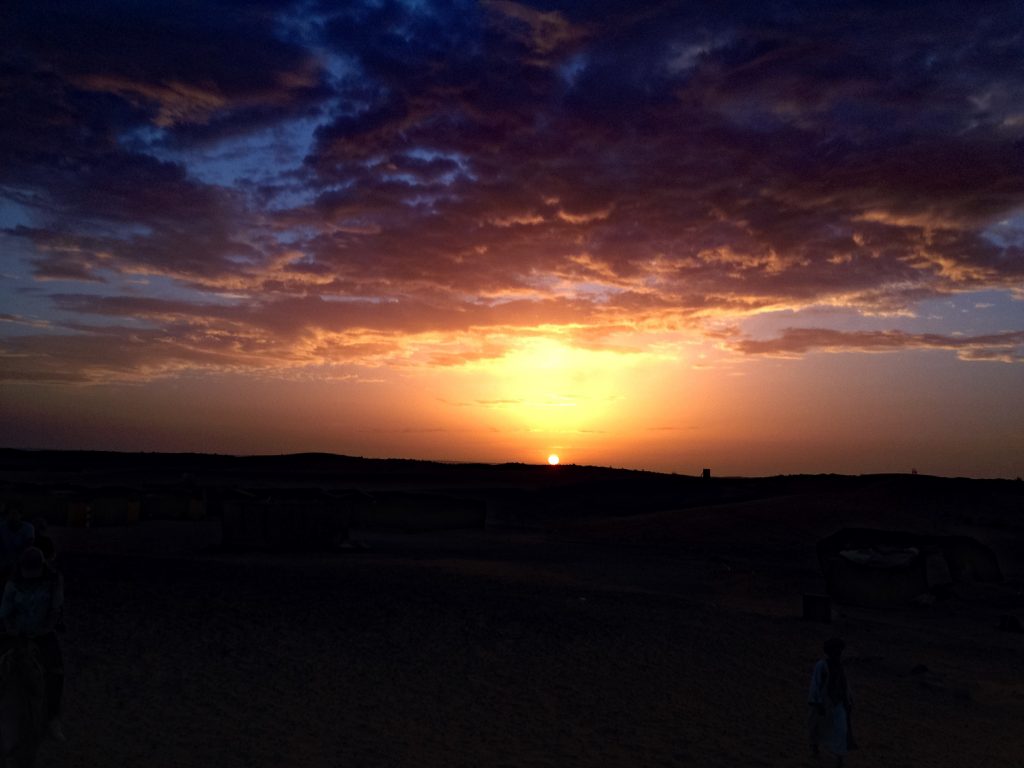 Our destination was some tents in the middle of the desert, so when I finished installing myself, I went to eat, because eating is life. The dinner was like a divine cuzcuz that you eat with your hands. Yes, yes, you can ask for cutlery, but my beautiful people, you are in the Sahara Desert, let's do things Sahara Desert style.

After dinner, we joined to dance at to the sound of some cool drums, and when the music ends, everyone goes for a night walk with the thing for skiing in the sand and to lie down and look at the stars.

My friend, the sky in the desert is the most beautiful thing in the world! Seriously, THE MOST BEAUTIFUL THING IN THIS WORLD! And while we lay there staring at the stars, our amazing guide brought us the blessed, yes, the blessed, beautiful, sexy, icy beer, and there we stood, admiring the sky and drinking beer. Do you know when you drink too much and lie in bed and the room is spinning? Now, imagine if your room is the desert sky. Duuuude, lying there in the "bed" and looking at the sky was the coolest thing of this universe! Like, so damn cool!
As I was staying there until I finish the marketing work, I made the desert tour several times, and to tell you the next story, I need to share one of my references. The movie The Mummy, where there are a killer mummy and beetles that eat people.

Well, one night we were with a group drinking on the top of a dune when I look at my leg and I see a beetle, I know he is hungry, so I get up screaming and I shaking my leg. In the rush to get up and get out of there, I forgot that I was on top of a dune and I end up falling all the way down and "landing" like a potato sack.

When I explained to the people the reason for my despair, everyone started to laugh at me and one of the guides picked up the beetle and explained to me the most revealing thing in the world: certain things only happen in the movies, beetle doesn't eat people.
BEETLE. DOES NOT. EATS. PEOPLE.
I know you're as shocked about this as I am, so I'm going to tell you the next story. In another day, when there was no customer, we went to drink in the desert, you know, to change the routine 😂. Eventually, everybody was speaking in Berber, the local language, and I, bored, decided to go for a walk.

It was a full moon and the walk was a delight, so I didn't realize that my steps in the sand were being erased by the wind. When I realized that I was already far away and in the middle of nowhere. It didn't take me long to realize that I was lost, so I simply sat on top of a dune and stared at the moon as I waited for the guys to find me.
The moon was beautiful, and after a minute I started to cry. I was homesick and lost alone in the Sahara Desert. I knew the guys were going to find me, they grew up in the desert, they know those dunes like the back of their hands and I didn't go that far.

At that time, I had been away from home for about three months, and until then I hadn't really realized that I was not coming back home. When it finally happened, I began to miss my mom, my brothers, my family, my friends, my cats, everyone is so far away. And for a moment I wondered what would happen if no one finds me.
I was going to die there. How long would it be until my mother found out? And what would happen if nobody finds my body? And what if they did? Will my mother have to come here? Or they were going to have to wait for my body to be sent to Brazil?

I was pretty sure none of this was going to happen, but you know, sadness plus loneliness equals dark thoughts. And I imagined what it would be like for my mother, it would break her heart, and the idea of ​​breaking my mother's heart broke my heart.

And it was not just that, traveling the way I travel is getting away from everyone you love and loves you. It's being alone when something happens, whether it's good or bad. It's giving up of any meaningful relationship.

It's eating crackers for breakfast, and sometimes for lunch and dinner as well, it's counting coins to have a beer, to live with shared bathrooms and in dormitories full of people. Was it really worth it? So, I decided to go back home.
But as soon as that thought came, I felt a knotted in my stomach. I didn't want to go back, I wanted to keep traveling, to see more and more sunsets, more moons, more different histories. Go back would be to give up of that little wonderful cold in the stomach that happens when you have no idea what you will find.

When I left, my mother did not ask me to stay. I know it was very difficult for her, but she never asked me to come back. I believe when you love someone but really love someone. You want this person to be happy, even if it means that the person is away from you or doing something that you consider crazy.
Not long before I heard my friends yelling for me, I found a peace that I was really happy to continue traveling, and they found me with a silly smile on my face like of those who have just realized that they are happy with the decisions they took.
The next day, I decided to go for a walk to see the sunset, following the line of the city, of course, I didn't want to get lost again. And as soon as the sun began to set I sat on a dune to watch, and looking around I came upon the moon rising.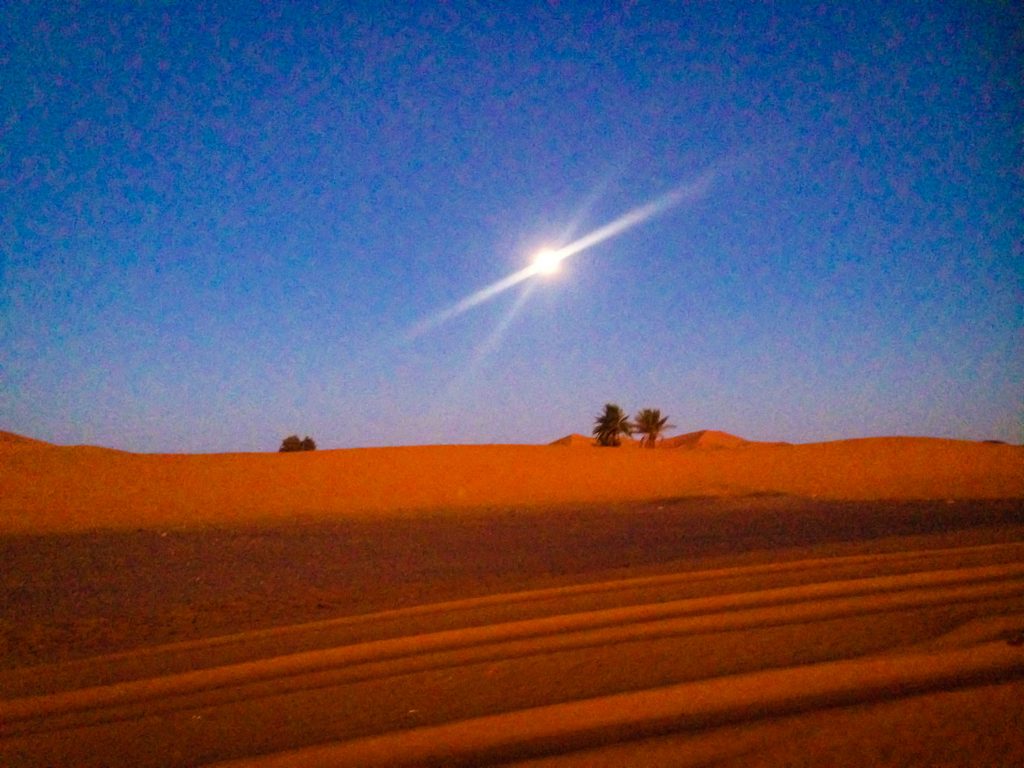 On one side I had the sunset in the city and on the other the moon rising between the dunes and palm trees. Then I sat on the side, so I could look at both of them at the same time.

Between looking at the sunset and the moonrise I could not be happier. There, I decided that I had learned everything I had to learn there and it was time for me to go to my next destination.
---
Check it out more info about Merzouga
Contribute to the environment
Take your trash
Collect rubbish if possible
ALWAYS PRESERVE THE NATURE