Anyone who knows me knows that I'm fascinated by sunsets, sunrises, the moon, or the sky in general actually 😂. So you can imagine that in these almost 4 years traveling I accumulated many, but not enough, memories of sunsets, sunrises… 👋🏽 out there in this beautiful world.
But until 2019, with a little more than 3 years of traveling, I still hadn't seen any sunset completely at sea. But I say completely completely you know, there was always a little cloud or a fog covering the sun. Not that it was less beautiful, just that it was different, and then my desire to see the sun going to sleep directly in the sea without a blanket was increasing.
I arrived in Gintota in the afternoon and I was really tired, I just wanted to bathe, eat and sleep. Buut, the idea of ​​losing a sunset on the beach gave me anxiety, so I went to have dinner in a restaurant that was in front of the beach.
I'm just going to stay at the restaurant, I'm not going to go down to the beach, I'm not even going to get dirty, I'll just throw water in my foot when I get back and go to sleep. Easy peasy
The sunset started as soon as I finished dinner. And for a second I didn't know what to do, I was tired, I didn't want to go down to the beach.
But I don't know, sometimes something happens to my brain. It seems that he turns me off, when I saw it I was already sitting on the ground, in the middle of the beach, right where the waves hit, just staring at the sun.
Cloudless sunset.
Fogless Sunset.
My Sunset! ❤️
My eye was already watery and dry, but the only thing my brain let me think was that I had to pay attention to every detail, every shade of color, every curve of the sea, every smell, sound, texture.
I needed to absorb all that magnitude in order to try to save a little for later, for my sweet memories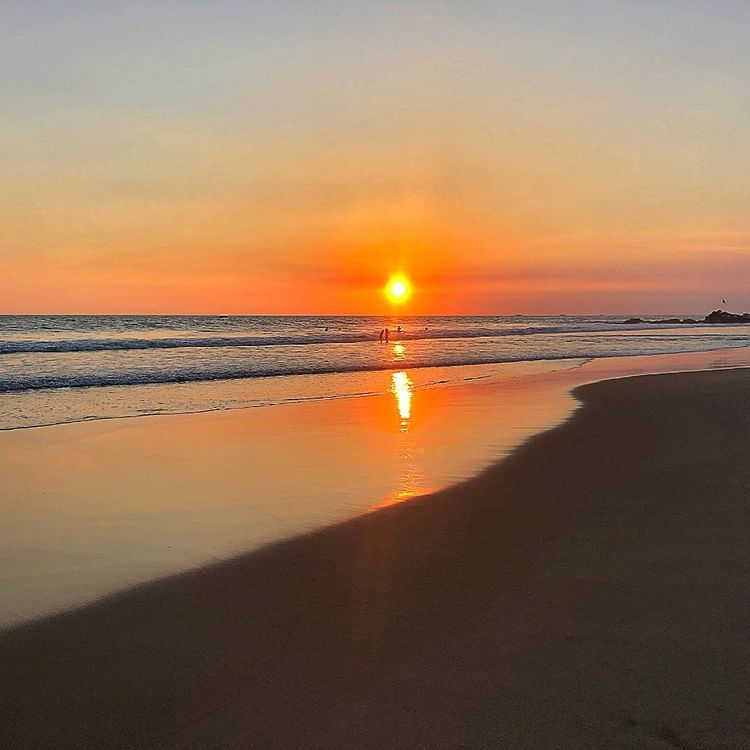 No, I didn't take a picture that day.
That moment was mine
But I came back for the next several days to take a picture, but I'm sorry to tell you, there was already a little cloud in those. But do not complain, if you want to see without a cloud you go there … but call me, ok! 😁
By the way, which of the two photos do you like the most?
Leave it in the comments!
---
✉️ Do you want to receive travel stories in your email?
Click here
Contribute to the environment
Take your trash
Collect rubbish if possible
ALWAYS PRESERVE THE NATURE