Now, stop, I would tell you to close your eyes, but you need them to read. But try to image your self, waking up with a beautiful sunrise, making a trek suround by the florest to arrive at amazing waterfalls, and then after rest at the beach, with your feet on the sand and beer in your hand while you watch a beautiful sunset! What do you think? Did you like? So you can have it! Just go to Boiçucanga!
WATERFALL RIBEIRAO DE ITU – TREKKING
Trekking start: km 18,5 of the Estrada do Rio Claro
The trail has 3 falls waterfalls, each one with a different level of difficulty, but none very difficult. The first one is the Smooth Stone Waterfall, my favorite one, with about 35 meters, the path to it is not difficult however there are several parts where you need to cross the river. The second, the Sambaia- Açú has about 20 meters and is great for swimming, just below the fall has a wonderful natural pool.
After the second waterfall, you can continue to climb up to reach the Serpent Waterfall which has a large volume of water. And also where there is the Well of the Apes, a natural pool with a beautiful bonus: a stone on the top of a trampoline with approximately 2 meters in height.
Activity: Trail, waterfall, abseiling
BEACH: PRAIA BRAVA
Located between Boiçucanga and Maresias, that beach is ideal for surfers because of the strong waves. To get to the beach you must walk 2.5 km in the middle of the forest to face a beach of green water, white sand and surrounded by the Atlantic Forest.
It is no wonder that this marvel is under environmental protection.
Activities: beach, surf and trail
BEACH: BOIÇUCANGA BEACH – SUNSET BEACH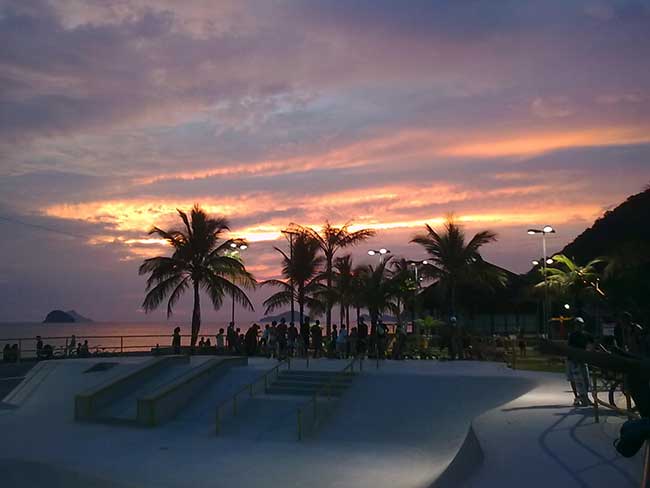 With a skateboard right in front of the sea it has a wonderful sunset.
Address: Avenida Waldir Vergani, main access road to Boiçucanga beach.
Activities: beach and skate place
ISLAND: CAT ISLAND (Ilha dos Gatos)
About 20 minutes by boat from the coast of São Sebastião, departing from the beach of Boiçucanga the Island of the Cats is a small beach with a natural pool of transparent waters and calm sea. There is also the ruins of the rock house that belonged to the Rockfeller family.
Activities: beach, snorkeling and trail.
BEACH: MARESIAS BEACH
Official Circuit beach of several surfing championships.

BEACH: CAMBURISINHO
With the most preserved caiçara aesthetics, it is very frequented during the day and at night by having several restaurants and bars.

---

Now you are ready to go!
But check my trip before
Contribute to the environment
Take your trash
Collect rubbish if possible
ALWAYS PRESERVE THE NATURE