The best destination for a quiet weekend.
The name meaning of the city is "city of John" because of its patron, St. John the Baptist. It was founded in the year 1878, it is considered the "City that was born of a party", a Tourist Resort with an economy focused on agriculture and tourism.
WATERFALL: CACHOEIRA DOS PRETOS
With a large volume of water, this waterfall has 154 meters, but not in free fall, but during the path. This is one of the largest waterfalls in the State of São Paulo.
The trail to the waterfall is approximately 1 km and is very easy to access
Access by road to San Francisco Xavier, 18 KM – Bairro dos Pretos
DAM: JOANOPOLIS DAM ( Represa de Joanópolis)
At 2 km from the city center and with a total area of 50 km ², the dam is formed by the rivers Jaguari and Jacareí and has several viewpoints around.
Activities: boating, jet-skiing, and fishing.

WATERFALL: CACHOEIRA DAS BRUXAS
The perfect place for a waterfall bath, the place has a huge granite rock and it forms a small lake at the base. And as if that was not enough, the whole place has is known to be mysterious and surrounded by stories.
Activities: Boiacross
WATERFALL: IPONINA WATERFALL (Cachoeira de Iponina)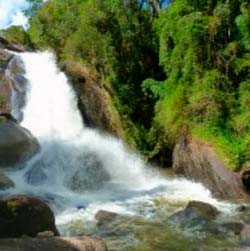 The waterfall has 20 meters forming small lakes at the base.
The entrance is by Pedra do Medo, about 27 km from the city center, however, it is on private property and can only be made with a guide.
WATERFALL: PIRES WATERFALL (Cachoeira do Pires)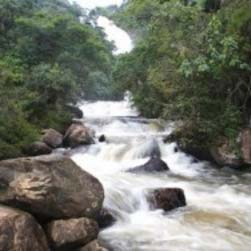 Consisting of several waterfalls and natural pools, the place has several depths in its course. It is located about 4 km from the city center, and to get there it takes about 40 minutes of walking.
Location: Pousada Santa Rita, in the Bairro do Pires (free visitation)
The place has parking
TREKKING: TRILHA OF SERRO DO LOPO
There are several trails in the region, most of them intersecting with the city of Extrema, in Minas Gerais. The most well-known trail in the region of Joanópolis is that of the Sleeping Giant or the Peak of Lopo (Stone of the Ridge)
MOUNTAIN: GIANT SLEEPING (Gigante Adormecido)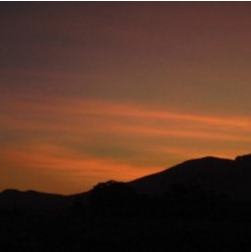 With 1,725 meters of altitude, you can see from the peak several cities around. The place has this name because the cutouts of the mountains remind a man lying down.
It is located 12 km from the city, an hour and a half walk approximately.
Activities: Hang gliding
MOUNTAIN: PICO DO LOPO or PEDRA DO CUME (Near the Sleeping Giant)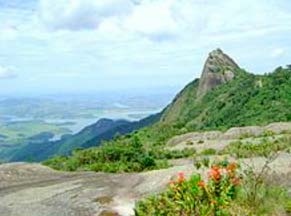 At 1,750 meters, the peak is the highest point of the mountain, offering a 360º view of the place, including the Jaguari Dam, the cities of Joanópolis, Extrema, Piracaia, and others. Also at the top of the peak you will find the Pedra do Sapo with 6 meters high.
Here is the starting point for several trails;
Access by EMBRATEL Highway, 7km from the city.
---

Veja mais sobre as trilhas
Contribute to the environment
Take your trash
Collect rubbish if possible
ALWAYS PRESERVE THE NATURE