Known worldwide as a city of dreams, Barcelona really deserves this title. With beaches, amazing nightlife, bars, buildings with incredible architecture, many squares and lots of green, the city definitely worth a visit. And for your maximum enjoyment, I separated the best places here.
FREE WALKING TOUR
Discover the historic center of Barcelona starting at Plaça de L`Àngel and continuing through the history and culture centers of Spain's second largest city. And all this for free!
Book your free tour: Click here
MONTSERRAT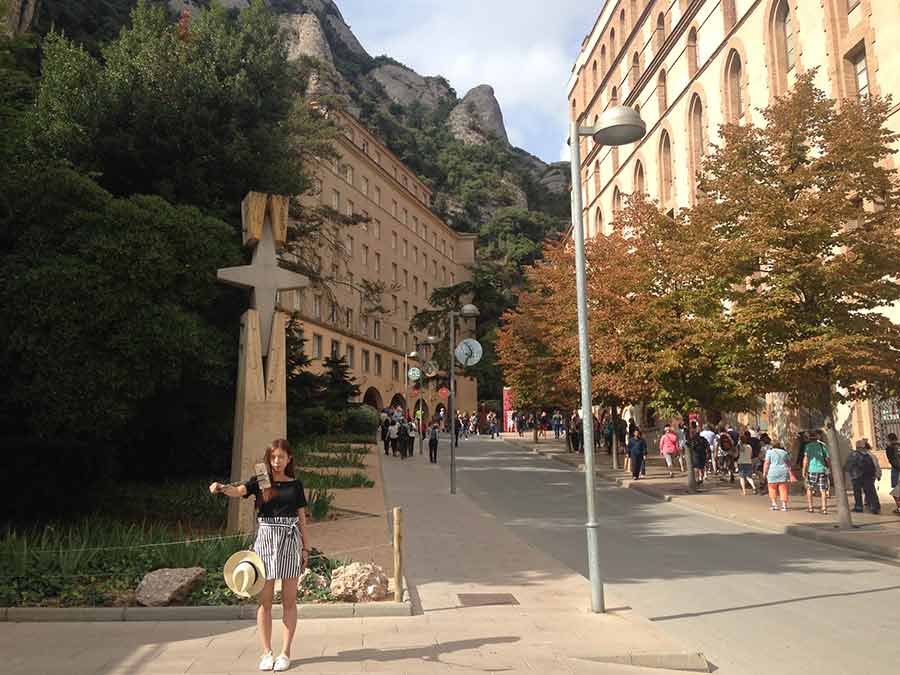 One of my favorite places in Spain, it is definitely Montserrat. With a wonderful set of mountains and a church at its base, the place is mystical and full of life. Not to mention that it is the perfect place for climbing, trekking, and camping.
One way to go to this wonderful place is booking a tour: Click here
EXPIATORY TEMPLE TO THE HOLY FAMILY (Sagrada Família)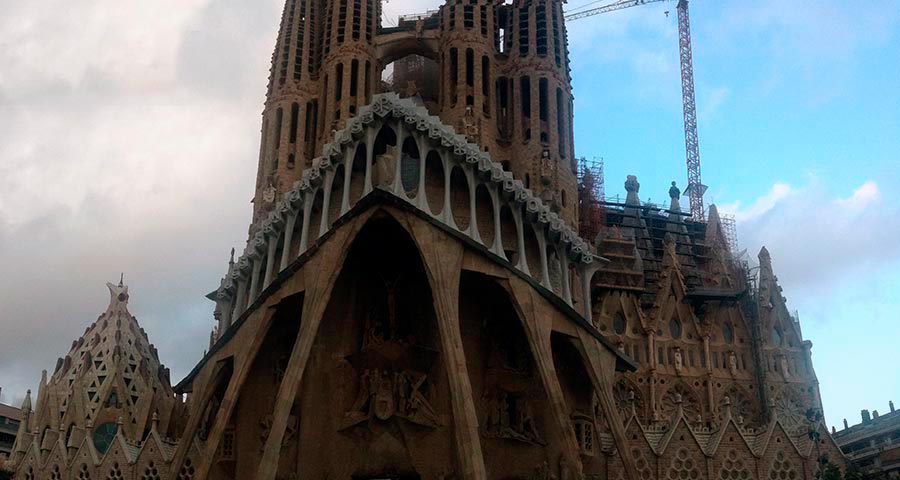 If you are passing through Barcelona, the Sagrada Familia Church is definitely a must. Under construction for over 140 years, Gaudi began what will one day be the world's tallest church.
The architecture of the church mixes several styles including Gothic, Art Nouveau and Modern Catalan.
Address: Carrer de Mallorca, 401
Value: Basic tour: 18 euros. With guide and audio: 28 euros
Opening Hours:
| | |
| --- | --- |
| 01 January | 09:00 – 14:00 |
| 02 January – 05 January | 09:00 – 18:00 |
| 06 January | 09:00 – 14:00 |
| 07 January – 28 February | 09:00 – 18:00 |
| 01 March – 31 March | 09:00 – 19:00 |
| 01 April – 30 September | 09:00 – 20:00 |
| 01 October – 31 October | 09:00 – 19:00 |
| 01 November – 24 December | 09:00 – 18:00 |
| 25 December e 26 December | 09:00 – 14:00 |
| 27 December – 31 December | 09:00 – 18:00 |
You can also take the tour with a tour guide who knows things and, best of all, without having to take queues: Book here
LAS RAMBLAS
Walking the streets of Catalunya Square to the Columbus Monument is one of the things to add to yours to do list. The path full of trees gives you an idea of ​​what day to day life is like in this wonderful city. The green, the street artists and the sellers make this place a must.
BATLÓ HOUSE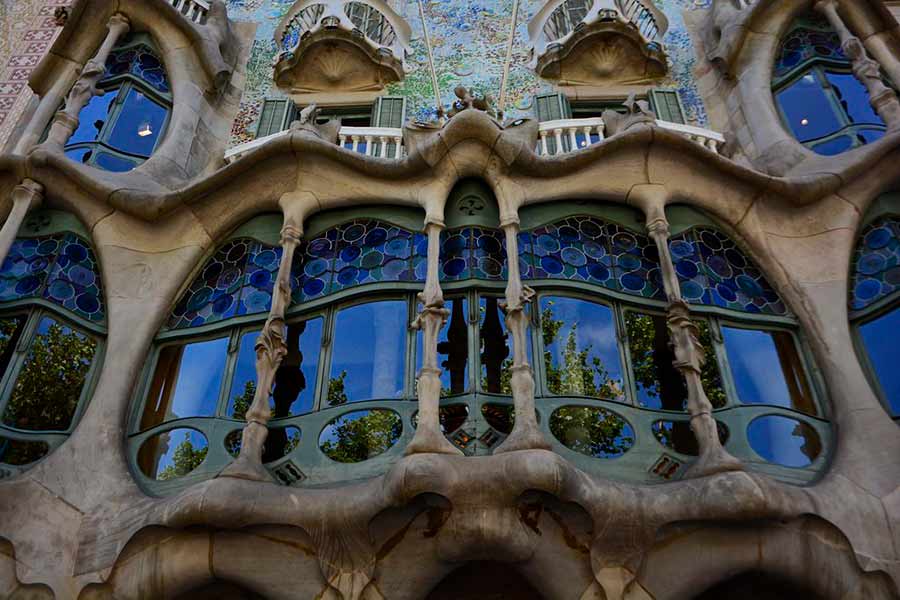 If you are an architecture lover, or even if you are just someone who likes to see different things, the architecture of this apartment is definitively something to see. Built by Gaudi, the Casa Batlló has the shape of a mushroom and with references to nature. Hard to explain, you better go take a look at yourself.
Address: Passeig de Gràcia, 43
Value: 25 euros
Opening hours: Every day from 9am to 9pm
MILA HOUSE
Another building of the artist Gaudi is also known as La Pedrera for its resemblance to a quarry. Built in 1912, the House was originally made to be the home of one of Barcelona's elite families, today it is part of UNESCO.
Address: Provence, 261-265
Value: 25 euros
Opening hours: Every day from 9 a.m. to 8:30 p.m. and 9 p.m. to 23 p.m.
Buy a priority ticket with audio guide: Click here
BEACHES
Of course, you have to go to the beaches, simply because beach is life. But here are some tips:
Sant Sebastià Beach is more touristy, but it is great to sit in one of the beach bars. After the Olympic Port, the place is quieter and more frequented by locals.
LA BOQUETERIA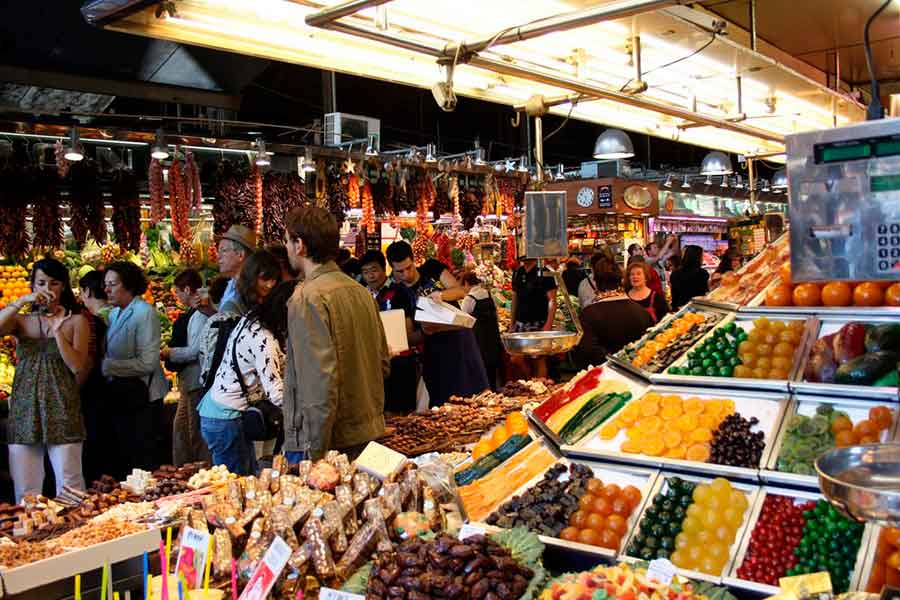 One of the most traditional markets in Barcelona is over 200 years old, operating since medieval times. The place sells everything: food, vegetables, fruit, beer, and cheese !!
Address: La Rambla, 91V
Opening hours: Every day from 8 to 20. With the exception of Sunday which is closed
CAMP NOU STADIUM
For football lovers, the FC Barcelona Stadium, running since 1957.
Address: C. d'Arístides Maillol, 12
GUELL PARK
Continuing with Gaudi's creations, the Carmel Hill Complex is super interesting. Besides being part of several films, it is full of columns, fountains, and sculptures. All with the same famous style of the artist.
Address: 08024 Barcelona
Value: 8 euros (there are reports that if the area is in restoration does not compensate the ticket, only the outside is good)
Opening hours: Every day from 8 a.m. to 9:30 p.m.
BARCELONA CITY HISTORY MUSEUM
For lovers of museums, the one known as MUHBA, is the place that preserves documents, disseminates and exposes the historical heritage of the city of Barcelona.
Address: Plaça del Rei
Value: 7 euros, students: 5 euros
Sundays after 3 pm, free admission
Opening Hours:
Tuesday to Saturday: 10 to 19
Sunday: 10 to 20
Closed: Mondays, 1 January, 1 May, 24 June, and 25 December
MONTJUIC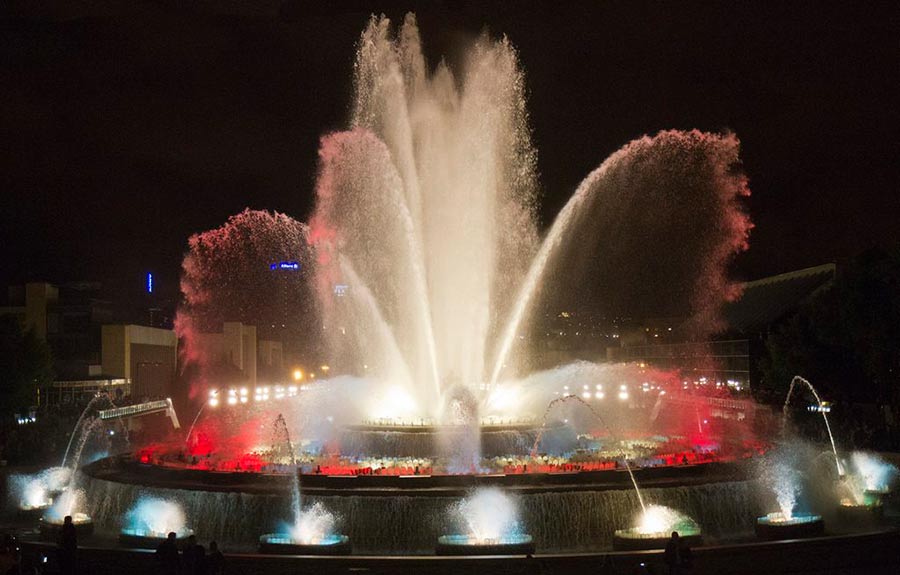 This part of the city was built in 1929 for an international exhibition and it works until today. The park is beautiful and worth your time to visit. Several renowned museums put their arts on display here. And at night during the weekends, there is a light show at the fountain every 30 minutes.
Address: Carretera de Montjuïc, 66
GRACE
One of the ways to experience a little more how the locals live is to visit one of the small towns around, I recommend the town of Gracia. The many bars, artists, cafes, and students make the place special, mainly in August when, due to a local party, all the houses are decorated.
PALAU DE LA MUSICA CATALANA
Another place also protected by Unesco was built by a follower of Gaudi, Lluís Domènech i Montaner, when the Catalan elite decided to invest in artists and designers of the region to build a new identity for the city.
Address: C / Palau de la Música, 4-6
CATALUNYA SQUARE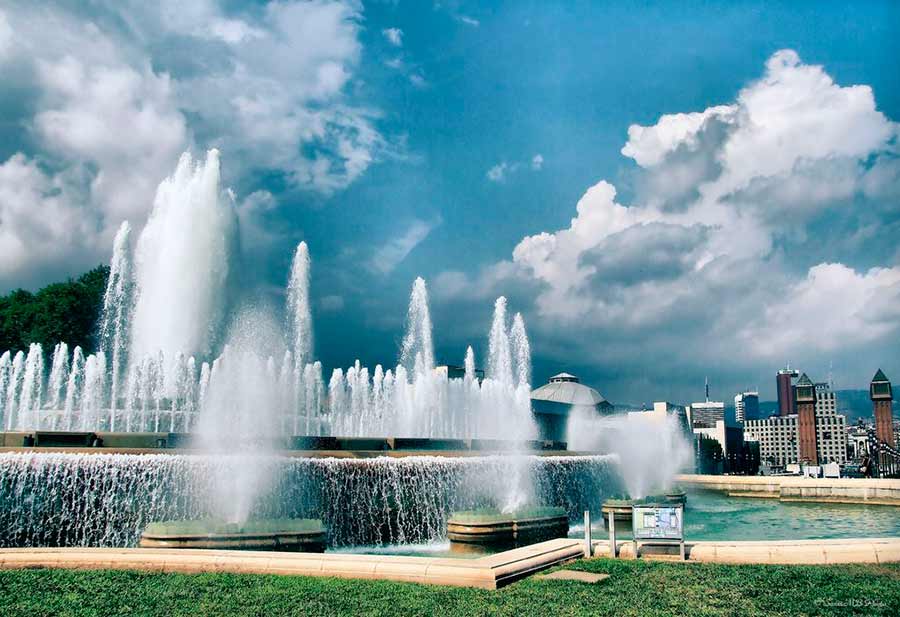 This is one of the best places to start your tour around Barcelona. It's in the center of various sights, and the square is a great place to find tourist information and plan your day.
MARVEL OF SANTA MARIA DEL MAR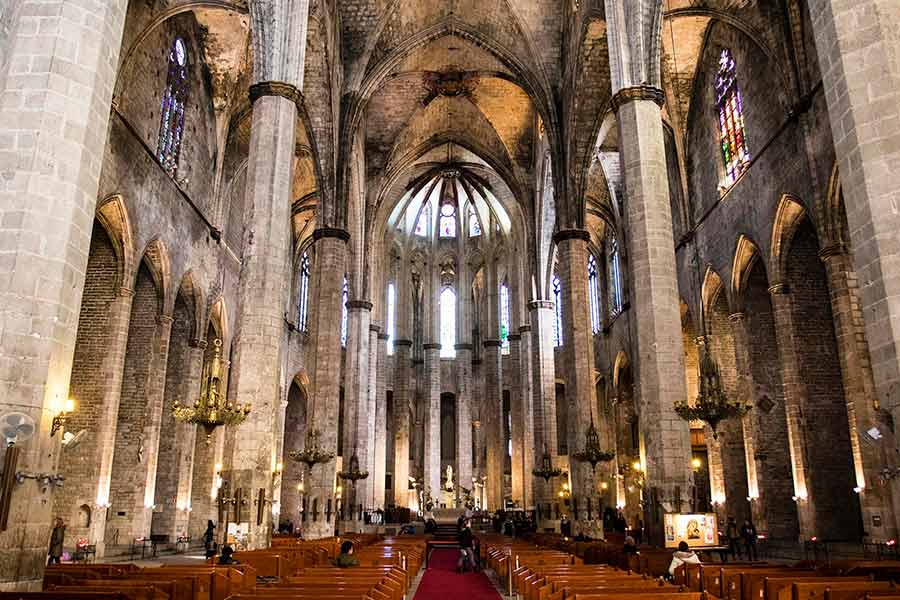 Completed in 1383, 54 years after the beginning, the church Santa Maria del Mar is a local antiquity. Also known as The Cathedral of La Ribera, the church is complete in the Gothic style with its arches and glass panels that naturally light the place. It became very famous after a series made by Netflix: Cathedral del Mar
Address: Plaça de Santa Maria, 1
Value: Free admission
Opening Hours:
Monday to Saturday: 9 a.m. and 5 a.m. at 8:30 p.m.
Sunday: 10 a.m. to 2 p.m.
Mass: Every day at 7:30 p.m. and at noon on special days.
JOAN MIRO FOUNDATION
Founded in 1968, behind the center of the city and on a hill in Montjuïc, the Joan Miro Foundation was built by the artist himself with the aim of making his art more accessible to the public.
Address: Parc de Montjuïc, s / n
Value: 13 euros. Students: 7 euros
Opening Hours:
Tuesday to Saturday: 10 to 20
Sunday: 10 to 18
Closed: on Mondays
CATHEDRAL OF THE SEU
Better known as the Cathedral of Barcelona, ​​it was built as a monument to Eulalia, the co-founder of the city.
Address: Pla de la Seu, s / n
CIUTADELLA PARK
Built in the 19th century, the square is a great place to rest while doing your city tour. With shadows and a lake, you can regain your energies while enjoying the beautiful fountain in the place and all its environment.
Address: Passeig de Picasso, 21
Value: Free admission
Opening hours: Every day from 10 a.m. to 10:30 p.m.
PICASSO MUSEUM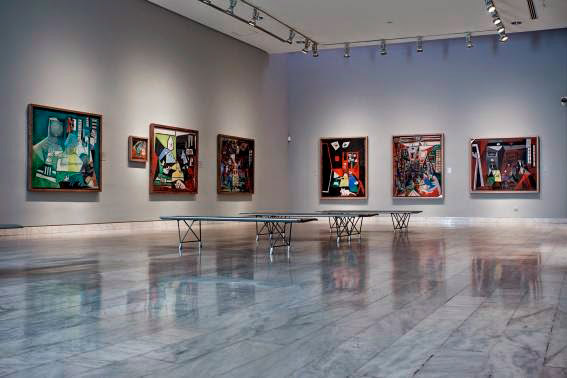 Who told me about this amazing point was the reader Sonia Margon. The museum is declared a point of national interest. The street where it is was the noblest and most important street of medieval Barcelona. There, in addition to the wonderful museum, you will find medieval and Renaissance palaces.
Address: Carrer Montcada, 15-23
Value: 12 euros.
Students, under 18 years and over 65 years: free entrance
Opening hours: Every day from 9 a.m. to 10:30 p.m.
Monday: 10 a.m. to 5 p.m.
Thursday: 9 a.m. to 9:30 p.m.

---
Now you are ready to go! 
But check my trip before 
And after book your guided tour here!
Book your free walking tour
Contribute to the environment
Take your trash
Collect rubbish if possible
ALWAYS PRESERVE THE NATURE