The first time I climbed was on a family trip, and I liked so much that I wanted to continue but I had no idea how, I did not know anyone who climbed and I had never seen any climbing schools in Campinas, so I let it go. It took a few months before I realized that the willingness to climb had not yet passed. It was too cool to be left out, so me and my younger brother decided to ask the one who has all the answers: Google. And that's how I get to know Unicamp Sports Climbing Group, GEEU. It was perfect, the classes were a perfect fit the price was great, without thinking too much, we printed the authorization document and the next day we went for our first class.
I confess that when I arrived I was extremely intimidated, a lot of people talking terms that I had never heard of and each person with his group of friends already formed. And meanwhile, my brother and I stood there at the entrance, looking like a new student entering the school in the middle of the semester. Luckily, it was not long before one of the monitors came to greet us, and with the greatest sympathy requested our terms of authorization and then showed us where to get the equipment and how to dress them. (The GEEU offers all the equipment for climbing in the place).
The first path I did was a free one, that is, I could go up taking the grip (foot and hands) that I wanted, and I was able to complete the path without any fall and in a good time, so, I came down from the wall thinking of myself as a real climber already. Super, huh? The monitor who was doing my security gave me a compliment and already gave me a path (already set route for climbing) to do. An easy one she told me, you get that she bet, you're going to make, she was completely wrong. In the middle of the path all that feeling that I was already a climber went to the marsh and a new feeling of challenge began.
Climbing that day was awesome, but everything in this life has a "but" and there was no exeption. I remember that even with the place completely crowded we were climbing almost immediately after our arrival, and one thing we noticed while chatting to the monitor was the comments from some climbers about the fact that they had to wait a lot of time while the newcomers just walked by. Extremely discrete comments spoken aloud to anyone who wants to listen. Our monitor apologized to us for them. And we understand that we are new and do not know how to climb so we take a long time to climb the wall, and it can suck waiting for us, so well that we decided not to go any further.
But even, I still had a lot of desire to climb, so after a few months I managed to change my schedules so I could come back at a different time, in the morning. I postponed my first class so many times, and when I finally got up and went, the experience could not have been better. I was extremely well received by everybody. So, what was the point of that part? A bad experience does not define the whole project, which is great. After a training time I ended up hurting myself in Muay Thai class and had to stop climbing for a while. After 8 months everything was changed at the wall. All the monitors, the paths and the way I look at climbing.
Here I wanted to talk a little about myself and what the climb means for me. I always had, and still have, an enormous fear of failure, so big fear that several times when things started to get difficult I just stopped trying for being able to tell myself that I didn't got it because I didn't really tried. But climbing for me is a sport that I want a lot to do, but that I would inevitably fail on it, so it was always very difficult for me, especially when I got a path and then had to move to a new path where I did not know if I could do it . Also considering that the paths in the GEEU are always being updated so no path stays in the wall for long. With that, I had to always try hard to keep going, and even then I was always missing.
On my back to the wall after hurting me, things were all different. And the monitor that came to re-receive me was Rodrigo Junqueira. First think you need to know about him, he's the kind of person who does not care to share what he knows, he'll never avoid you into answering a question and will never respond in that tone of "how come you do not know that?". Second, he is a born motivator. You know that my fear of failing giant? With his motivation and shared knowledge, climbing took a different tone for me. Failing became some part of my growing, I should just keep trying,
There is this memory that I think is a good exemple of all that.
I was stuck in a climbing path for a while. I was avoiding to move forward because of my fear. One day he turned to me and said, "Hey, it's time for you to change paths, let go of that and make another one more difficult. Do this here, you will fall, but you will learn some new moves and eventually you will be able to do it. "I remember he said it in such a way … as if the fact that I failed was not too much, you know. And that brought me the thought: that's it, and if I can not do it, what's the problem? Little by little I started to fight with my fear of failure, I'm actually still learning about it. One of the things I took to understand was talking to my mind, always convincing myself that there is no use in wanting to skip a step, in climbing (and in life) things are progressive, you learn movement by movement. Comparing myself with others it's not a good think, what is easy for others can be a challenge for me, and that movement that is natural to me, is not so natural to others. That path that seemed impossible is becoming accessible, until one I'll finish it with only a few falls, and after a while I'll do it without any fall, and then I'll go to another path, and will be falling all over again.
This post was mostly for sharing what climbing is for me: much more than a physical challenge is a mental challenge and acceptance. And also of course, it is a thank you for the patience and partnership of Rodrigão.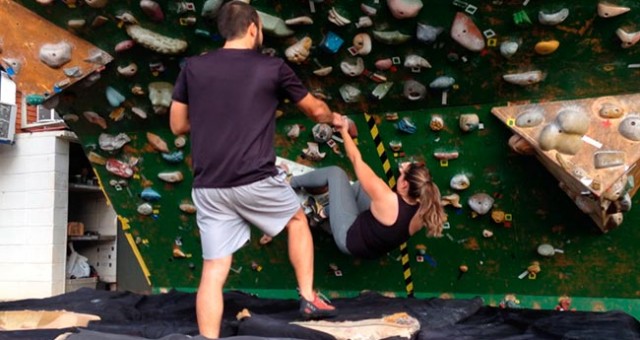 Ah, the master now shares his immense knowledge of him and other climbers by PodCast: ClimbCast. You can check it by clicking here, it's worth seeing!
GEEU Information:
Address: A, Av. Albert Einstein, 763 – Cidade Universitária, Campinas – SP, Brazil
Unicamp – Near the blocks, you can see the wall from the street. (In front of the bus stop)
Website: Click here
---

Contribute to the environment
Take your trash
Collect rubbish if possible
ALWAYS PRESERVE THE NATURE