It all started when my laptop broke and I, the smart person that I am, had not unlocked my credit card to use in Morocco.
As I work online, being without a computer was the worst thing that could happen, so in an act of immense kindness, my beautiful friends Abdul and Zakarias, who worked at the hostel, took it to a fixing shop, and while I was praying for a low price, these beautiful ones had the petulance to not let me pay 🥰
I was really grateful and wanted to do something for them, so I decided to make a website, and that's how I met Said, from SG Morocco Tours, who works doing… tours on, guess where? Morocco! 😱
And the more time I spent there, the more I fell in love with the country, and I spent a lot of time there, so imagine, when I was kicked out by the bastard cold in Germany, I didn't even think twice before deciding to go back to Fez and stay there to work at the hostel.
One of the things I loved to do there was touristing with customers around the cities. I was traveling the world, and I got a job to travel even more. Own people, life so difficult.
But the best part was when I was told that I was going with Said and Zakarias on a trip to someplace, to do something. So, with all this information I decided that the only thing a sensible person could do was the suitcase.
The next day, at 5 am, everyone in the car.
I confess that my brain didn't even process this part because I got out of bed to get in the back seat of the car and get back to sleep. I only woke up a couple of hours later when the boys woke me up to see the sunrise.
Look at this ugly thing:
People, I love the sunrise/sunset. I love the sky, the moon, the sun, the landscape, the smell, I love everything, and as a traveler, watching it ended up becoming one of my sacred routines.
But coming back, that was when I discovered that we were going to Al Hoceima, a city in the Morocco coast, but to do what, it was still a mystery. But who cares, the path was surrounded by mountains, nature, and fog, and flowers, and trees, and trees well .. relax you know, marijuana, tea time, herb, ganja, pot, mary jane, 4:20.
If you know what I mean 😜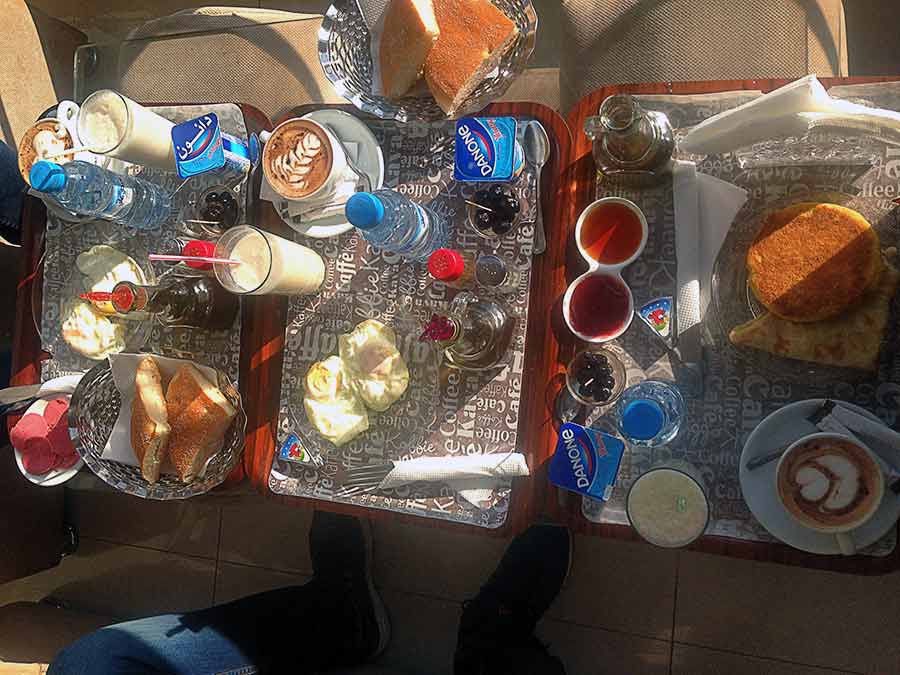 Before arriving in the city, we stopped somewhere in the world to have breakfast. And bro, breakfast in Morocco is another level. Really. They know how to do an amazing breakfast. And tea (all types included 😂).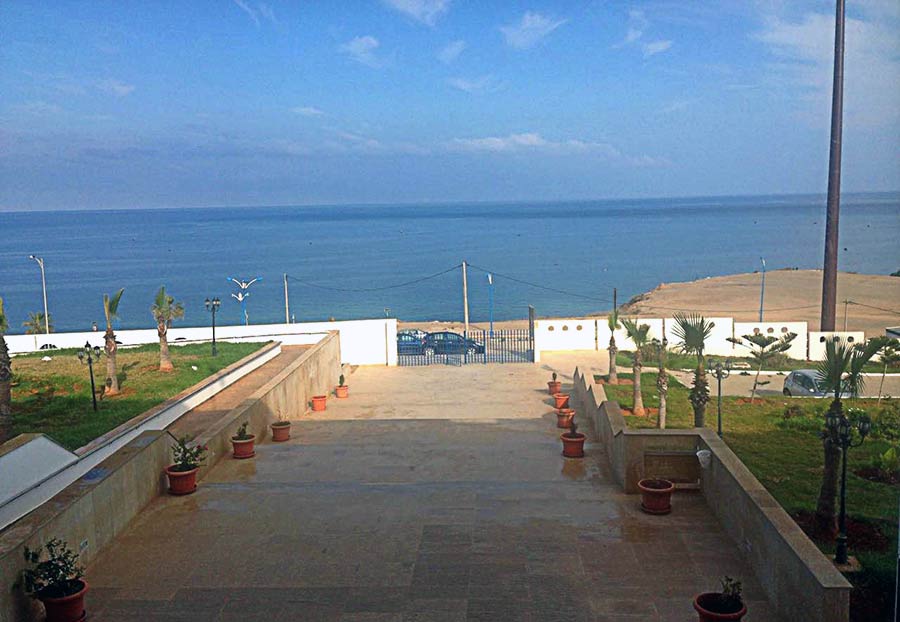 Eventually, we arrived at a place next to the sea, and got out of the car, my Sherlock Homes brain deduced that we had arrived at our mysterious destination. And no, I was not being taken to Disneyland, but to a university. 😳 You know, my university was next to a bar and I had a hard time choosing which one to go to, imagine if it was next to the beach. Guys, you can't do that!
Diploma in hand, let's go for a walk around the city.
Lookout, check. Edge, check. Goats, check.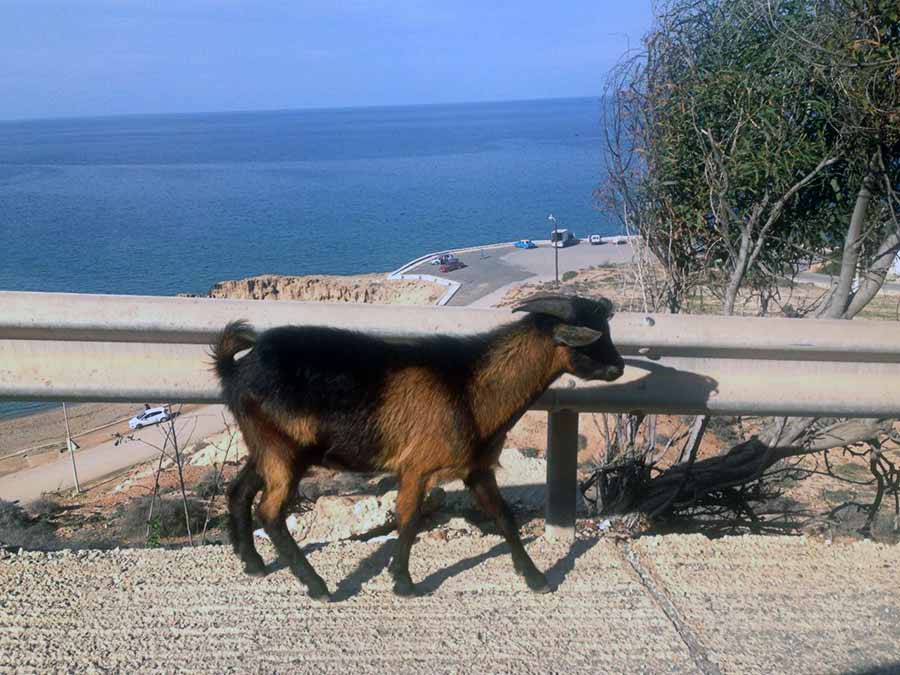 We spent the night at Said's aunt's house. Guys, I know I said that they understand about tea and breakfast, but they understand even more about hosting and family dinner. I don't think I ever laughed as much at a family dinner as I did that day.
The next day was the return to Fez day, but by a different path, a little longer but worth it because we would see, in addition to a beautiful road, the Frioato Cave, which is one of the most famous caves in the region.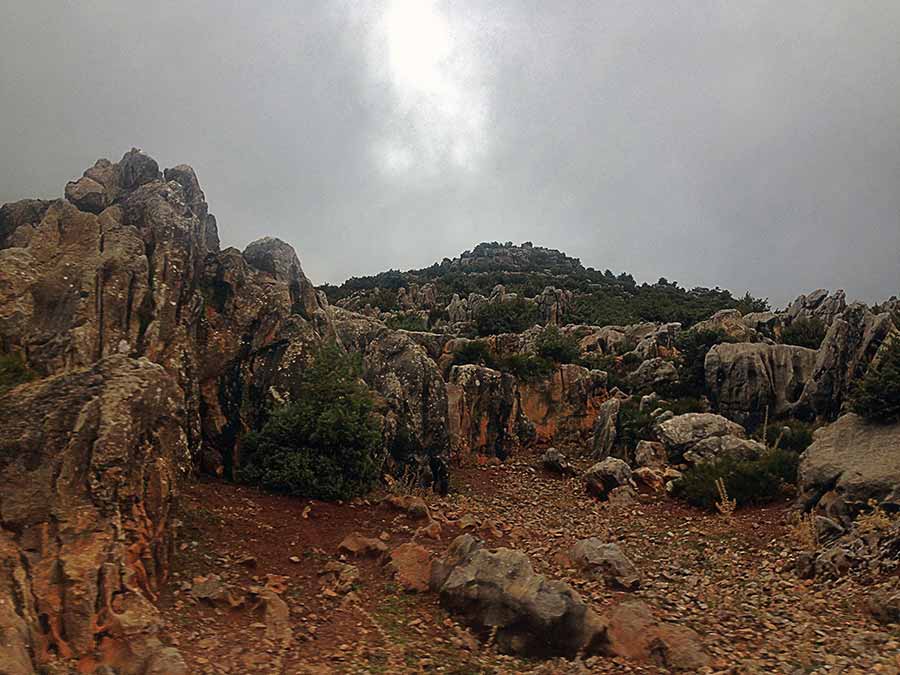 The road is really beautiful, it's the typical Moroccan landscape of rocky mountains. The weather, on that day, was cloudy and cold, which made it look like a suspense movie, or adventure, depending on your mental state or artistic preference.
When we arrived at the place, we were greeted by a cold wind that accompanied us to the entrance of this place that was supposed to be wonderful.
But it was closed for maintenance 🤦🏽‍♀️
But it's all ok, the path itself is so surrounded by beautiful nature that it makes the trip worthwhile, and the sky, as always, was what gave the greatest spectacle. As soon as it was dark, a giant moon appeared and continued to light our tortuous paths ❤️, and accompanied us until we returned to our beloved city of Fez.
---
Check it out more info about Morocco
Book an amazing tour in Morocco!
Contribute to the environment
Take your trash
Collect rubbish if possible
ALWAYS PRESERVE THE NATURE