Do you know when you make the perfect planning for a trip? That trip was that, I had the perfect plan, and all comes out exactly, but exactly all different from everything I've planned.
The plan? Spend 3 days climbing in Curitiba. A dream right? Not so fast, after spending almost 8 hours driving on a wonderfully horrible road we arrived at my friend Aranha's house, and, instead of the blue sky I was hopping for, we had an amazing and threatening cloudy weather. Really awesome. But no.
Whichever the weather was, we would not let that put us down. So we decided to visit a waterfall, the Salto São Francisco, one of the largest waterfalls in Brazil, the fifth largest to be exact, with 196 meters of height.

We will spend the day in a trail, we said, we will stay in the middle of the bush all day, we dreamed, we will be adventures, we will deceived ourselves. The 2 hour trip to the waterfall became 5 hours when the car broke. Then we needed to change it's oil, not only to change the oil, but to clean it completely, apparently we need to do those things in the car's parts. I don't know anything about that, but everybody was saying that was important, so we spent another 3 hours waiting for the cleaning and oils changing. A-WE-SO-ME!!!
When that was finally over, we went on our way and faced two difficult choices. We had two trails options, one to go to the base of the waterfall and another trail to go to the top. The walk to the base was, if I'm not mistaken, a 3 hours walk, which would be perfect, if it were not for the fact that we were 3 hours late, and that if we did that trail, it would be dark before we could finish. You don't want to be in dark inside an unknown forest in Brazil. So, against all my principles, we made the safest choice.
It was not a bad actually, for being real it was pretty beautiful, at the end there is no such a thing as a wrong choice when you are in the middle of the bush. (don't take me for real here ok?!)
And, just after a 20 minutes walk, we arrived at the waterfall viewpoint, which was a little far from the waterfall because there was a barrier to protect us.
You see my friend, I do not believe in barriers, not even the physical ones, so it didn't take me more than two seconds to decide to jump the barrier and go near the waterfall. You see, I'm not telling you to do this, there's a reason they put this barrier, and the risk of falling from the top of the waterfall is one of them. Remember that if you go to the water the pressure and speed of the river will catch you and push you to the waterfall, and there you go, goodbye my dear, I will have one less reader. lol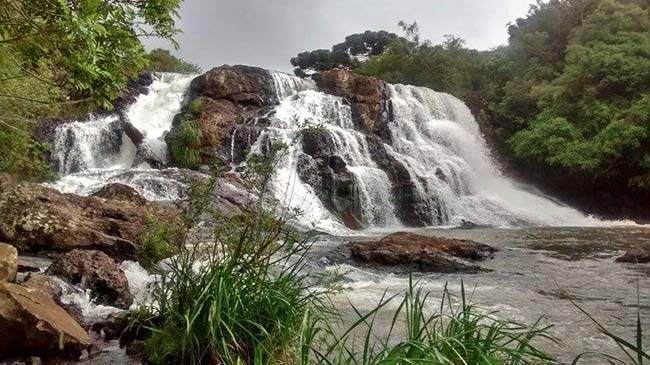 We just jumped so we could have a better view and to take some photos. Then we continued the trail, finding another waterfall soon after the main one. This you can go near it, sit on the rocks around and enjoy the power of the water. There is even a bench there if you want to relax while you listen to the sound of falling water with a vision that it is worthy of a painting. From this waterfall already has an easy trail for the entrance of the park and from there we went home.
The next day we went climbing in São Luis do Purunã, a perfect place for climbing. And with a parking near, a tip for you here: instead park at the beginning of the trail, you should park near the toll, you will have to walk a bit more, but it is safer and my friend said that sometimes there are car thefts in the area.
From there to the climbing wall is an easy path, you just need to follow the trail, which is well marked and a very cool one. Already during the trail, you have to do a walk/climb part in this part that you need to go down, and the way down is like a ladder on the wall where you are supposed to grab on tree roots and some fixed pieces of metal installed on the wall. Then just go further and you'll reach the climbing walls.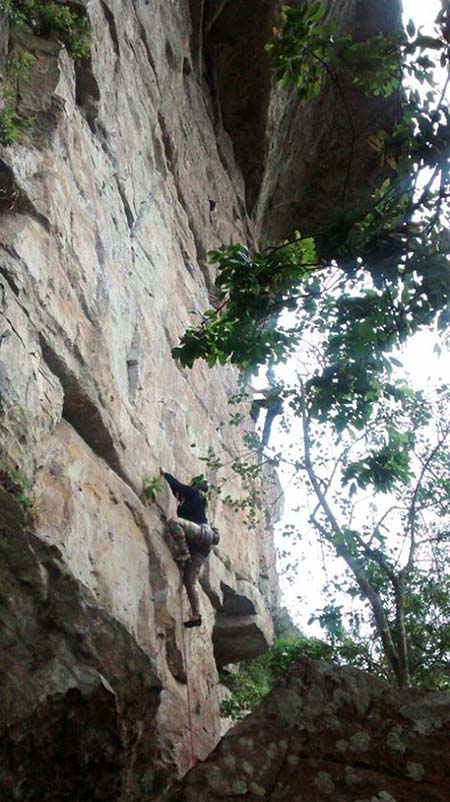 I was without climbing for sometime back then, ( It was winter dude! Nobody like't to climb in the winter). So we decided to make the easiest path between the driest ones, and that was a misery 5c wall. And unfortunately my "I haven't being climbing lately" was clearer than I would like it to be when I arrive at the middle of the path (that happens to be the difficult part) and I couldn't reach the grip. The "move" was a pendulum movement to achieve a high grip. The problem, to me at least, was that the first grab was in a very small and tall grip, I'm a small person. And after trying for half an hour and filling my finger with bubbles I gave up. Sad end to a rainy afternoon of climbing. There is no greater pain than abandoning a wall that you know will not be able to climb again anytime soon. But, I was no longer able to continue, so… acceptance hurts less, right?!
The goal was to climb, but even with the big failure in this department, the trail compensated, the way back even more as it was done by night. I love staying in the middle of the woods at night. It is so exposing, free and wild. There's something in the woods and the moon that together just gonna set you free.
The next day was a day to be a tourist. We went to the Botanical Garden of Curitiba, the place is beautiful, it has a lake, birds and flowers, trees and that's it. We spent two good hours there, just relaxing and strolling. And eating, of course, at the entrance of the garden has a wonderful "crepe" seller.
Afterwards, we went to see the panoramic view of the city by the Oi Antenna. As I always carry a binoculars for these situations, we got into spy mode and started to look for crazy life in the city. One of my favorite games is to keep looking for interesting things and challenge friends, Pedro in case, to find out where they are. It's kind of looking for the Wally live mode. Very interesting and stuff, but we were not planning to spend a whole day there. So soon we left.
And went, guess where we decided to go ?? Buy wine and cheese, obviously. You know, I'm not much of a wine buyer, but I wanted to buy one for my friend who hosts us. Whenever I stay at a friend's house I like to buy a present before I leave. Sad fact that it happened soon after the purchases.
---

Check more info about Curitiba
Contribute to the environment
Take your trash
Collect rubbish if possible
ALWAYS PRESERVE THE NATURE